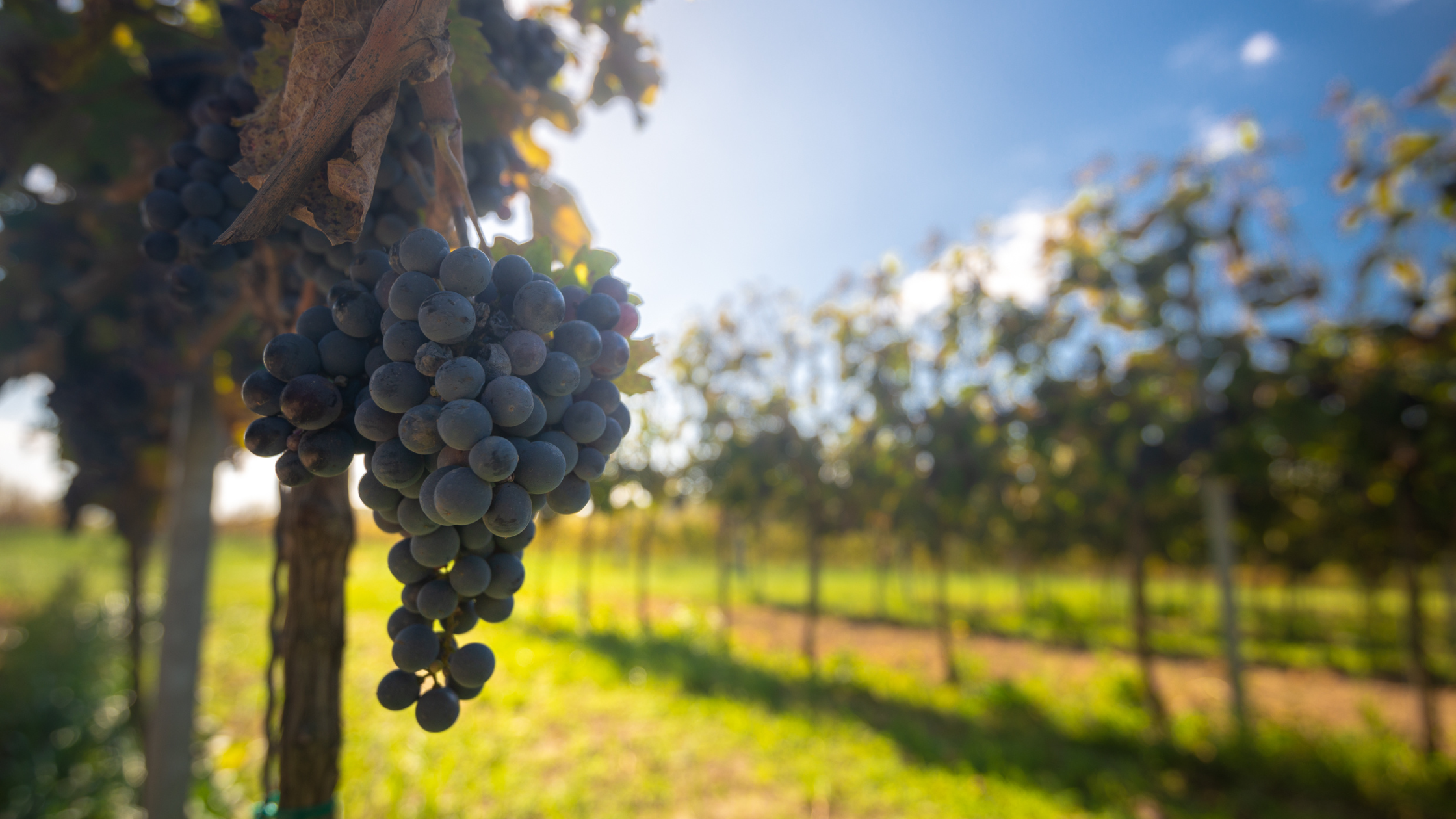 Cabernet Franc
A blending grape from Bordeaux that can shine on its own.
ka-ber-nay frahn
Origin: Bordeaux, France Grape: Cabernet Franc (black grape variety) Flavors: Strawberry, Roasted Pepper, Red Plum, Raspberry, Bell Pepper, Chili Pepper Notable Regions: Bordeaux, Loire Valley Sweetness: Dry Body: Medium Tannins: Medium Acidity: Medium-High ABV: 11.5-13.6%
The History of Cabernet Franc
The origins of Cabernet Franc, a versatile black grape variety, can be traced back to the same location that introduced other famous grapes like Merlot, Cabernet Sauvignon, and Malbec — the French region of Bordeaux. Cabernet Franc is also a parent, alongside Sauvignon Blanc, of the Cabernet Sauvignon grape, as well as a parent grape to Merlot and Carmenère. There are many other names for Cabernet Franc, including Bordo, Bouchet, Bouchy, Breton, Cabernet Franco, and Cabernet Franc.
Though mostly a blending grape in Bordeaux, Cabernet Franc plays a starring role in the Loire Valley of France. In fact, the Loire Valley is where Cabernet Franc first became popular during the 1600s — it was not until at least 100 years later that large plantings of Cabernet Franc began to appear elsewhere.
The region's single-variety red wines are highly regarded, and the grape is also featured in rosé wines, like Rosé de Loire and Rosé d'Anjou. The region's sparkling wine, Crèmant de Loire, can also be made in part or entirely from Cabernet Franc grapes.
In Bordeaux, Cabernet Franc is most significant in Saint-Émilion, where it is used as a blending component alongside the dominant Merlot grape. Some producers even favor Cabernet Franc over Merlot, and produce wines primarily with Cabernet Franc.
Elsewhere in this region, Cabernet Franc plays a smaller role and makes up only a portion of overall vineyard plantings in the Mèdoc and Graves regions. The grape ripens more easily than Cabernet Sauvignon, so many producers view it as a sort of insurance policy against the kind of weather that can cause problems for Cabernet Sauvignon.
Other regions have begun producing premium ice wine from the Cabernet Franc grape, including California, New York, Washington, Argentina, and Chile.
Fun Fact: December 4th is Cabernet Franc Day!
Cabernet Franc Taste and Flavor
In comparison to the bolder Cabernet Sauvignon, Cabernet Franc can make lighter-bodied, less tannic red wines that are generally ready to drink soon after bottling. These wines often exhibit strong herbaceous aromas, with flavors of raspberry, strawberry, and red plum, along with a peppery finish. Some of the best examples come from Anjou-Villages, Bourgueil, Chinon, and Saumur-Champigny.
However, a reputation for refreshing, youthful wines should not obscure the fact that there are full-bodied wines made from Cabernet Franc that are capable of aging magnificently over many years. Finely-aged Cabernet Franc wines have been described as reminiscent of the aromas of a forest after a rainstorm, with high acidity and crunchy tannins that you can sense toward the front of your mouth.
On the other hand, young Cabernet Franc is an ideal red wine for the summer. It is sufficiently fruity that it can be refreshing when served slightly chilled, yet has enough structure to pair with the flavors of a barbeque.
Serving Cabernet Franc
Cabernet Franc should be served between 65 and 70 degrees. Serving it colder will stifle the delicate floral aromas and flavors, and serving it warmer will make it seem more fruity and less dry.
Additionally, decanting Cabernet Franc will help simmer down the wine's natural spiciness. The wine will taste softer and more rich with 30 minutes of decanting or pouring through an aerator.
Cabernet Franc Food Pairings
As a medium-bodied wine with high acidity and reduced tannin, Cabernet Franc pairs nicely with a variety of different foods. Rich and fatty foods, vinegar-based dishes, and tomato-based dishes are all good choices. Because of the herbal undertones of the grape, dishes with fresh herb accents tend to shine with this wine.
The Best Cabernet Franc Food Pairings
Meat
Try a glass of Cabernet Franc with roasted pork, beef burgers, beef stew, meatballs in tomato sauce, turkey with cranberry, lamb gyros, pâté, roasted duck, venison, or roasted or grilled lamb.
Cheese
Cabernet Franc pairs well with cheeses like feta, goat cheese, brie, and blue cheese.
Vegetables
Because of the wine's herbaceous aromas, Cabernet Franc can be enjoyed with a variety of vegetables, including roasted red peppers, tomatoes stuffed with basil, roasted or grilled eggplant, mushrooms, spinach, arugula, and beans.
Herbs and spices
When preparing food with Cabernet Franc, dishes seasoned with oregano, thyme, rosemary, sage, red pepper flakes, black pepper, or jalapeno will pair tastefully.
Cabernet Franc in a Nutshell
As one of the oldest cultivated grape varieties, Cabernet Franc has been an underappreciated supporting player to its bolder relative, Cabernet Sauvignon. However, this grape is finally starting to get the individual attention it deserves due to the wine's easy-drinking structure and versatile ability to pair with many different foods.
With a medium body, high acidity, and reduced tannins, the flavor of Cabernet Franc wine is defined by a delicate balance between red fruits, herbs, and peppers. A glass of Cabernet Franc can be as enjoyable on a cold winter day as it is slightly chilled for a hot summer afternoon!