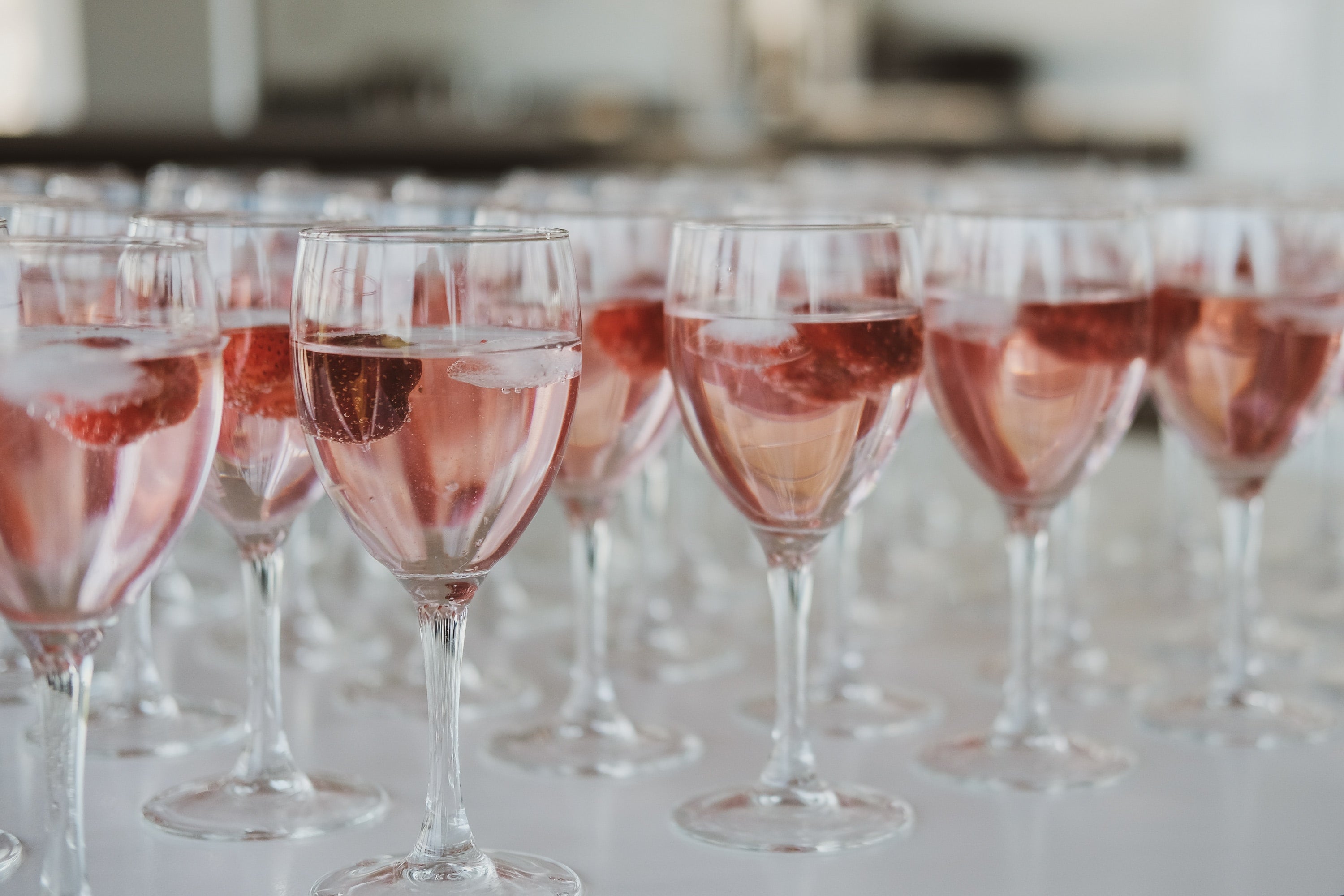 A Comprehensive Guide to Rosé Wine
The Varietal Taking Over the Wine World
The popularity of rosé has skyrocketed in recent years, and rightly so. Sales of rosé wine in the U.S. are growing more than 40% yearly, which makes rosé wine the fastest-growing wine category.
The delicate, refreshing flavor of this wine stimulates your taste buds and comes in a wide variety of pink hues. You can drink rosé without a food pairing while lounging at the pool during the summertime or while dining al fresco. Rosé is the ultimate summer wine, but that doesn't mean you can only consume it for a quarter of the year.
Rosé wines can be tricky to differentiate from one another aside from the obvious color traits and the name on the label. In this guide, we dive into the distinct flavor profiles associated with certain types of rosé, so the next time you're shopping for a rosé, you can be confident you know what you're getting.
What Is Rosé Wine?
In a nutshell, rosé is a type of wine that only uses a fraction of a grape's skin color in the production of the drink, making it different from red wines that use all the pigments (think Pinot Noir). Rosé wines can be made from numerous different types of grapes and are produced and sold in many countries around the globe.
You might be surprised at how long rosé has been around since the "skin contact method" of production (which we cover below) has traditionally been very intuitive and straightforward. Rosé wines can also be made as still drinks, semi-sparkling drinks, and blends. They also possess a range of sweetness levels, with the ends of the spectrum being very dry rose wine to extremely sweet rose wines like Zinfandel.
Some rosé wine varieties are a faint shade of pale pink, like our Casa Luna Corsica Rosé. Refreshing rosé wine from France with a fruity nose of orange and red fruit. This light wine is perfect as an aperitif but also pairs well with pizza, salad, or grilled meat.
Other varieties of rosé wine come in a more vivid pink color. This fresh and refined rosé is deliciously light with a brilliant pink shade with plenty of fruity tones. These darker pink-colored wines are best paired with meats, Asian dishes, and spicy food.
Rosé Flavor Profiles and Pairings
Though it's easy to lump all rosé wines together, the subtle differences make a big difference in preferences and what you can or should enjoy it with.
Light Rosé: This flavor profile of Rosé is considered the most versatile of all. These pale pink-colored Rosé wines usually have mint, grapefruit, or strawberry flavors you can taste with each sip. Those who prefer this wine will enjoy it with salads, cheese, or burgers.
Light, Medium, Floral Rosé: A few shades darker than light Rosé, this flavor profile gives off an almost orange tone. Commonly associated with cherry, rose petals, and herbal flavors, enthusiasts of light medium Rosé can pair this wine with grilled meats like lamb, pork, or even shellfish.
Medium, Full, and Round Rosé: This wine hints at raspberry, hibiscus, and white pepper flavors and is typically when the color of the Rosé begins to turn towards the darker end of the spectrum, but not the darkest it can get. Grilled chicken, pork, veggies, or salads pair well with this.
Full, Rich, and Savory Rosé: When enjoying darker, nearly red-colored rosé varieties, you'll taste flavors like berry jam, bell peppers, or black peppers. This flavor profile goes hand in hand with BBQ-sauced foods, grilled ribeye, and even pizza!
The Rosé-Making Process
Though rosé can be made with many grape varieties, wine enthusiasts use the phrase "intentional rosé" to describe grapes grown and harvested specifically to produce rosé wine. These harvests are done earlier in the grapevine's lifespan, which helps maintain the grape's potent acidity and fresh fruit flavors.
Most of the magic behind getting the proper pink color is through how much skin is left in the wine mix during production. Red wines, for example, are fermented with all of their skins. White wines are fermented without any skin at all. Think about rosé production as somewhere in between.
Below, you'll learn about several ways of rosé production that achieve its special pink color.
Limited Skin Maceration
Most wines are produced through the maceration process. Maceration is a general term for food that is softened or eventually turns soft after soaking in a liquid. As the name of this production style suggests, limited skin maceration attempts to lighten the red pigments that black grape skins release into the wine during the soaking process.
Black-skinned grapes are first crushed and pressed into a mixture of skin and juice. The crushed skins sit in contact with the juice for 2 to 24 hours. This process is carefully timed since the longer the mixture is allowed to macerate, the darker the wine becomes.
During maceration, tannins that contribute red colors to the wine are slowly drawn out of the grape skins, seeds, or any stems in contact with the mixture. These tannins can also act as antioxidants that help prevent the wine from degrading after exposure to air.
Limited skin maceration for red wines can allow the pressed grapes to sit for several days or even weeks, thus getting us the darker colors we associate with red wines.
For rosé, the timing is often cut off at 24 hours, meaning rosé wines are less stable in color (aka pink), have different flavor components than red wines, and have antioxidants. This means that rosé wines typically have a shorter shelf-life. Therefore, it is recommended that rosé be sold and consumed as soon as possible after they are bottled.
Saignée
In French, this word translates to "to bleed." This winemaking process is generally a byproduct of the red wine production process rather than a method specifically used to produce rosé wine. Winemakers who emphasize bold red wines with big flavor often use this method.
The saignée winemaking method removes or "bleeding" some of the juice from the crushed grapes to achieve a more concentrated mixture of phenolics (tannins), color, and flavor in the wine.
When we mentioned that this process was a byproduct of red winemaking, consider this: Many winemakers using this method are 100% focused on making red wine first. But in the middle of the red winemaking process, a portion of the mixture is removed and bled, creating rosé. In other words, saignée production is a business strategy to help winemakers get more out of their grapes.
Vin Gris
Vin Gris are wines made as soon as the grapes are pressed. Maceration time is cut down to nearly zero. Although you would expect the color of the final wine to be grey, the result is a much more pale pink than even some of the lighter rosé wines made with limited skin maceration or saignée.
In France, wine manufacturers who label wines as vin-gris must make them from a lightly tinted grape variety. The varieties that end up being most popular are the Cinsault, Gamay, and Grenache Gris.
Decoloring
The final method of rosé production used is decoloring. This process uses natural absorbents like charcoal, specifically activated carbon, to drain the color from red wine.
The charcoal used in this winemaking process is usually sourced from distilled carbon, like wood. It has a high enough surface area-to-weight ratio and has been found to absorb color compounds and other phenols in wine.
Even though charcoal can be used to strip colors from red wines, charcoal often removes acidity and varying flavors. Generally, it produces a lesser quality rosé than any previously listed method. This is why decoloring is rarely used when the goal is a high-quality, great-tasting rosé.
Blending Red and White Wine?
In the production of rosé, it is a common misconception that blending red and white wines gives us the rosé we see on store shelves. In France, top-level certified "Made In France" rosé wine, also known as contrôlée appellation, doesn't even allow the blending method of production for rosé.
This method is almost exclusively used in the production of rosé Champagne rather than the still drink. When producing rosé Champagne, winemakers opt for Pinot Noir or Pinot Meunier for their valuable hues and flavors.
Outside of Europe, blending red and white wines is considered a very nouveau method and is generally not the norm. Consider this myth busted!
Types of Rosé Wines
The most popular varieties of rosé are sourced from France, Spain, and Italy, with a few selections from Australia and California. If you have enjoyed rosé before, chances are you drank one variety made in one of these locations. Our guide will start with the most famous regions of rosé wine, where the wine is synonymous with the region and not the grape itself. From there, we'll dive into the different kinds of grapes used to create rosé and how they impact the taste, palate, and food pairing.
French Rosé Varieties 
Provence Rosé
Regions Grown: Provence
Grapes Primarily Used: Grenache, Cinsault, Syrah, Mourvèdre
Sweetness: Dry
Flavors: Strawberry, watermelon, salt
Food Pairings: Light salads, raw shellfish, goat cheese
A region south of France with intense wine enthusiasts who consider rosé as a way of life and not simply just another wine. There's even an institute dedicated to researching rosé here.
This variety of rosé is made as deliberately as can be, starting with grapes that are picked specifically for citrus and sweet red fruit flavors. Using limited skin maceration, the color of Provencal rosé ends up with lighter hues and a more delicate flavor profile as well. Instead of big, overbearing fruitiness, this rosé is more crisp and versatile. Provencal rosé pairs great with vegetables, seafood, and meat.
Tavel (Rhone Valley) Rosé
Regions Grown: Rhone Valley, Tavel
Grapes Primarily Used: Grenache, Cinsault, Syrah
Sweetness: Very Dry
Flavors: Tart berries, orange zest, stony minerals
Food Pairings: Herb sausages, BBQ brisket
Tavel is an appellation in France that focuses entirely on dry rosé. It is the Rhone's singular rosé-only appellation--all wines here are pink, by law.
The most commonly used grape in Tavel rosé production is Grenache. Other grapes, like Clairette grapes, can be used to produce blanche wines, and Picpoul grapes for blanc, noir, and gris wines.
The production of rosé in Tavel involves more skin contact compared to Provence. This means wines end up with deeper colors and fruitier flavors due to increased tannins, structure, and age from these tasteful producers.
As we discussed before, white wine is usually not blended with red among serious rosé producers. Still, white grapes and their juice can be added to the mixture before fermentation. In Tavel, three white grapes--clairette, picpoul, and bourboulenc, are permitted, but they must be pressed along with the red grapes. They can help contribute to acidity and dilute the wine's color.
Bordeaux Rosé
Regions Grown: Bordeaux
Grapes Primarily Used: Cabernet Sauvignon, Cabernet Franc, Carménère, Petit Verdot, Merlot
Sweetness: Very Dry
Flavors: Strawberry, gooseberry, grapefruit
Food Pairings: Grilled fish, fresh greens, chicken
The Cabernet Franc grapes used in Bordeaux rosé production are commonly harvested in early morning to preserve freshness. After gently pressing these grapes and letting it sit at a cool temperature, the fresh fruit and bright acidic flavors begin to solidify. Bordeaux rosé usually has the classic pale pink color typically found with French rosé wines.
Spanish Rosé/Rosado Varieties
In Spain, rosé wine is commonly referred to as rosado. Very recently, Spanish rosado wine has enjoyed increased popularity stateside. 
In the past, Spanish rosado producers made simpler wines that were more quaffable than those from other countries. Still, due to its popularity increase, rosado's quality has greatly increased. As a whole, these wines are much deeper in color than French rosé wines.
Navarra
Grapes Primarily Used: Grenache, Cinsault, Syrah
Sweetness: Very Dry
Flavors: Tart berries, orange zest, stony minerals
Food Pairings: Herb sausages, BBQ brisket
This variety of rosado is named after a Spanish region of the same name. Producers in this region specialize in either summertime poolside rosado best for solo enjoyment or more full-bodied, complex, food-appropriate rosados.
Grapes used in Navarra include Tempranillo, Cabernet Sauvignon, and Merlot grapes. However, the most "traditional" grape used is the old-vine Grenache variety, which is considered the pinnacle of their rosado style for the Navarra region.
The saignée method of production dominates this region's production, and Navarra rosados are some of the highest quality rosado wines out there.
Rioja
You might have noticed that we haven't focused on aging rosé wines. That's because, in the world of rosé, aging classifications are rare, and rosé's shelf life is just not as long as other wines--especially red.
However, the Rioja variety of rosado takes a unique stance on aging by following the tradition of aging the wine in oak barrels. Rioja-style rosado producers always show off new vintage rosado wines and brag about their youthful, fresh flavors brought to life by stainless steel production equipment. There are three main types of Rioja rosé:
Joven, an even more specific type of Rioja Rosé, has no aging requirement and can be customized for flavor and color while aging.
Crianza is a type of Rioja that is aged for 12 months total, spending half that time aging in a barrel.
Lastly, the reserva variety of Rioja is aged for up to two years, with a minimum of six months spent in the barrel.
Italian Rosé/Rosato Varieties
In Italy, the proper term for Rosé is rosato. Rosato is made across the country with climate and local grape varieties affecting flavor profiles and styles the most.
Northeast Region
In the cooler northeast region of Italy, rosatos produced usually are more delicate. The term used in Italy for more delicate Rosato is "Chiaro," which translated means "light" or "pale." These wines can be classified under the dry rosé subcategory.
Central Region
In central Italy, Rosato producers are known for making nearly cherry-pink colors in their wine. Again, these lighter shades are achieved through limited skin maceration and are almost exclusively made using the Montepulciano grape variety.
Southern Region
Finally, in southern Italy, Rosato flavors are more full-bodied and bold. Though southern Italian wines are commonly known for being cooking wines, their Rosato is surprisingly enjoyable for those who enjoy more flavorful wines.
Australian Rosé Varieties
Rosé is produced across Australia, as grapes from each region benefit from certain climate characteristics.
Barossa Valley and McLaren Vale
These regions of Australia benefit from tons of sunshine. The Grenache grape variety is most commonly grown in the Barossa Valley and McLaren Vale regions and can be considered this grape's home in Australia. Both regions have robust rosé production year-round, and the wines from these regions are light pink or red, slightly sweet, and full of berry flavors.
Western Australia
Rosé wines from the Western Australian region take pride in their high quality. Most Western Australian rosé is made from Cabernet Sauvignon blends and tends to be lighter and sweeter than other Australian rosé styles.
Yarra Valley
The Yarra Valley is responsible for Australia's sparkling rosé style, although this region also produces many popular still wines. Pinot Noir grapes are the most common, and the wines are savory and well-textured.
Adelaide Hills
The cooler climate of the Adelaide Hills makes the Rosé produced here taste drier. Most Rosé wines from this region are made using Cabernet Sauvignon or Pinot Noir flavors and carry delicate rounded fruit characteristics.
Mudgee
Despite the Mudgee region's high altitudes, the low rainfall and humidity of this region are more suited for producing traditional rosé varieties. These wines are distinct, ripe, and savory in flavor.
California Rosé
The popularity of White Zinfandel and other California rosé wines cannot be denied. Their reputation for being sweet and innocuous goes hand in hand with the high demand. These wines are usually very easy to drink, flavorful, and inexpensive.
Rosé by Grape Varietal
While the region typically defines rosé, it is grown in, and the grapes synonymous with the said region, there are a few grape varietals that are consistent across regions in the production of rosé wine.
Bobal Rosé
Regions Grown: Valencia, Spain
Grapes Primarily Used: Red (black) grape varieties
Sweetness: Dry
Flavors: Strawberry, fruit-forward, and floral
Food Pairings: Roasted vegetables, cheeses
The name "Bobal" is derived from the Latin word "bovale," which refers to the shape of a bull's head. Bobal rosé wines are commonly used as single-varietal wines or in blends with red wines. This style of rosé has a bright ruby color, as well as fresh and fruity aromas. You'll enjoy a good balance of tannins, acidity, and dark fruit flavors when drinking.
Malbec Rosé
Regions Grown: Languedoc, France
Sweetness: Very Dry
 Flavors: Strawberry, raspberry, gooseberry
Food Pairings: Grilled fish, fresh greens, chicken
Most Malbec rosé wines are fresh, well-balanced, and contain hints of strawberry and raspberry. These are great for everyday drinking since their versatility allows them to be enjoyed as an aperitif or with lighter dishes. Usually a bright pink color with violet tones, Malbec rosé wines have fresh strawberry, raspberry, and gooseberry flavors. Its balanced acidity and dry and lingering clean finish mean it pairs great with tuna or green salad, pasta, and spicy Asian dishes.
Grenache Rosé
Regions Grown: Northern Spain
Sweetness: Sweet
Flavors: Raspberry, red fruit, lemon aftertaste
Food Pairings: Tomato, red pepper, eggplant, spiced foods
Both Spain and France produce rosé wines using the grenache grape variety. While Spanish Grenache rosé flavors are more juicy and floral, French Grenache rosé wines are more concentrated with stronger fruit and spice flavors.
Cinsault Rosé
Regions Grown: Southern France
Sweetness: Dry
Flavors: Light red berries
Food Pairings: Escargot, salmon, garlic butter
Cinsault grapes, in rosé form, usually carry light, aromatic and refreshing properties. These southern French grapes have been grown for centuries and have historically been very popular in blends. Fun fact: these grapes are resilient to extremely hot, dry climates!
Syrah Rosé
Regions Grown: Provence, Rhône
Sweetness: Dry
Flavors: White pepper, red pepper, lime zest
Food Pairings: Cured meats
Syrah is one-of-a-kind rosé wine. Flavorwise, it's richer than its other rosé peers and contains more of an oily texture. These wines are usually best paired with meats because of their bold flavors!
Moscato Rosé
Regions Grown: Italy
Sweetness: Sweet
Flavors: Orange, pear, lemon, candied strawberry
Food Pairings: Alone or with dessert
This popular pink wine is first a white wine blended with a dash of Merlot to give it its bright pink color. If you drink plenty of Moscato already, imagine those flavors with hints of strawberry. That said, pink Moscato is usually a very versatile wine, so be on the lookout for flavors you enjoy!
Sangiovese Rosé
Regions Grown: Italy
Sweetness: Dry
Flavors: Strawberry, green melon, roses
Food Pairings: Chinese & Thai food, prosciutto
A true Italian "Rosato" wine, the Sangiovese grape varietal is quite underrated. These wines usually have a bright, clean acidity that finishes with lingering hints of preach. Enjoy this rosé variety either chilled or between 55-60 F.
Cabernet Sauvignon Rosé
Regions grown: France
Grapes Primarily Used: Cabernet Sauvignon blend
Sweetness: Dry
Flavors: Fresh, small red fruit
Food Pairings: Flatbread with blue cheese, ham
You might have guessed, but this style of rosé is commonly made by blending various wines, specifically Merlot, Cabernet Sauvignon, and Cabernet Franc. They are also nearly exclusively made in the saignée method and are more acidic since they aren't usually aged in oak.
Sparkling Rosé
Regions Grown: Italy, Argentina
Grapes Primarily Used: Pinot Noir, Chardonnay
Sweetness: Medium-Dry
Flavors: Raspberry, rose
Food Pairings: Chicken, risotto
It's bubbly. It's fresh and dry. It's hot pink…but cool to drink. What are you waiting for? Turn any occasion into a celebration with fun and fizzy sparkling rosé. 
Pour a glass and relish a foam of almost-creamy bubbles. Take that first sip and smile at the flavors of raspberry and rose. Take a bite of a fun food like fried chicken or risotto, then take another sip. It's just that good!
Rosé Wine in a Nutshell
Though the broad strokes of wine production are the same for red, white, and rosé wines, the subtle differences in rosé flavor, color, and production methods make it unique.
The next time you find yourself picking out or enjoying a glass of rosé, read the label! It's fascinating to explore and learn more about what you're drinking. After reading this guide, you're familiar with many rosé facts, so you'll be ahead of the curve when discussing details to look for in flavors and what to pair the wine with.
Rosé wines are an eye-catching, sociable wine variety, and we hope this guide leaves you well-equipped to enjoy them even more in the future!