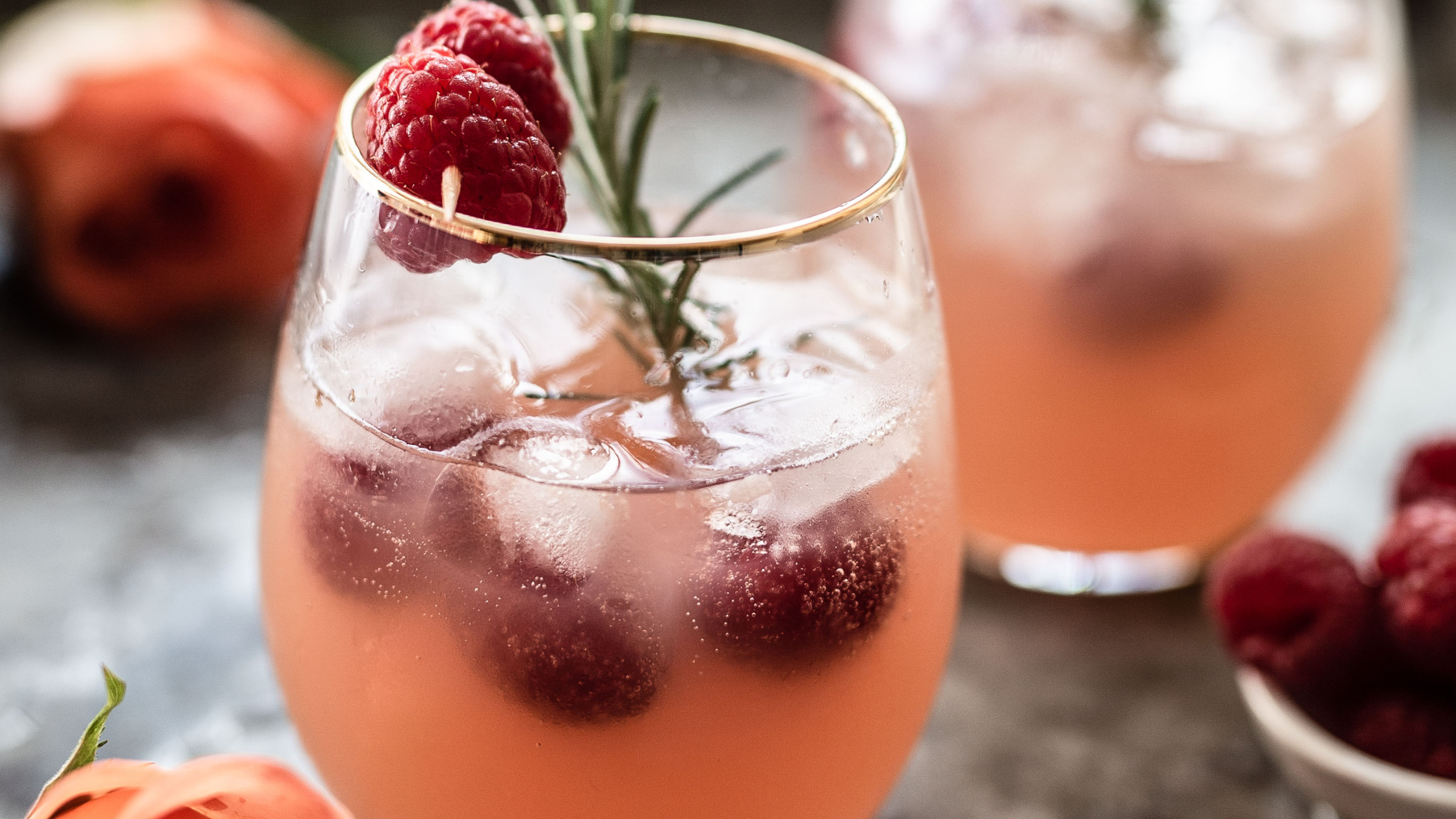 Is Rosé Wine Sweet?
Ahhh Rosé. The trendy pink wine hailed as a summertime favorite. 
All you need is a cute sun hat and a pool to enjoy this fruity wine to the fullest. It's light, airy, and refreshing, the perfect sipper when working on your tan.
But if there's one hangup, fans of this pink drink often wonder if it's fully sweet or completely dry. 
We understand the confusion, as its floral and strawberry notes trick the nose into thinking Rosé is undeniably a sweet wine. But what about rose wines with a dry finish?
We've wondered that too, so we've decided to look into a few things.
Kick your feet up on your poolside lounger. We're here to dispel the questions surrounding Rosé's sweetness once and for all. 
Rosé Wine Taste
While the taste of Rosé varies depending on the type of red grapes it's made from. Its primary flavors will always be strawberry, raspberry, cherry, and citrus with fresh floral aromas. It will usually have a crunchy green finish, like melon or celery. 
Rosé's flavor profile is perfect for those who crave the lightness of white wine but still want to taste the deep berry flavors red wine offers.
But if we're talking about sweetness levels, we've got to dig a little deeper into Rosés past. Let's see how this wine is produced. 
How is Rosé Made?
Rosé is produced from the same type of grapes used to make red wine. Common varietals used include Pinot Noir, Grenache, Sangiovese, and Syrah. The main difference between the two types of wine is that the maceration method for Rosé involves a much shorter length of time. 
Maceration refers to the grape skins soaking in the juice (also known as "grape must") before fermentation. The skins will soak for as little as a few or up to 24 hours. This short soaking period gives rose wines their signature light pink color. 
What makes Rosé sweet or dry is the amount of residual sugar left behind during fermentation. Whatever sugar isn't eaten up by the yeast is left to add extra syrupy sweetness. Some rose wines subject to "stuck fermentation", which is when the fermentation is halted to leave more natural sugars in the blend. 
Why don't we look at the varying sugar levels in different types to better understand rose wine taste?
Types of Rosé Wine
When answering the question, "Is rose wine sweet," we can't go without peaking into all the crisp goodness ranging from syrupy to bone dry. 
Sweet Rosé 
Like other wines, sweet Rosé is characterized by the amount of sugar per liter. Did you know that White Zinfandel and Pink Moscato are types of sweet rose wine? Let's compare the sugar and alcohol content of these two delicate blush wines. 
White Zinfandel
You can expect White Zinfandel to have around 30-100 grams of sugar per liter, which makes it a medium-sweet to sweet wine. This rose wine is higher in alcohol content, with about 12-16% alcohol per volume on average. 
Pink Moscato
Pink Moscato is on the lower end of the alcohol spectrum, with just 5-7% per volume. It's fruit-forward and on the sweeter side, so it will contain about 100-200 grams of sugar per bottle. 
Dry Rosé
Dry Rosé will have no more than 9 or 10 grams of residual sugar per liter, which makes its sweetness range from non-detectable to light. Here are a few classic examples of dry rose wine. 
Provence Rosé 
Provence Rosé boasts the classic flavors and aromas of other rose wines with the addition of a smoother, more mineral aftertaste. The tannins, acidity, and dry taste will make your mouth pucker but will be balanced with refreshing rose, melon, strawberry, celery, and watermelon flavors. 
Provence is famous for being the first wine region in France, and it's also renowned for producing a type of rose wine that boasts summer berries, orchard fruits, and fresh blossoms. 
A blend of grape varietals Grenache, Cinsault, Syrah, and Mourvèdre are what give this Rosé its crisp, dry taste.
Rosé Champagne
Bolder than traditional Champagne with less sweetness, Rosé Champagne is crafted from black grape varieties like Pinot Noir. It is bubbly and fruit-forward, with a breezy scent of flowers to compliment its bubbly makeup. 
A spritz of citrus gently compliments the zing of alcohol and acidity with an average of 11-14% alcohol per volume. 
Black grapes like Pinot Noir and Pinot Meunier lend to this wine's dry, fruity flavors and floral aromas. Chardonnay is also often used to make Rosé Champagne, which also gives it a mineral kick that's smooth and dry. 
Is Rosé a Sweet Wine?
Whether a Rosé is sweet or not will depend on the type of grape it comes from and the amount of residual sugar it contains. Grape varietals like Sangiovese, Pinot Noir, Tempranillo, and Syrah will result in a drier Rosé style. 
Sweet Rosé styles like Pink Moscato are made with Muscat Blanc grapes and a dash of Merlot. Muscat Blanc will often range from dry to sweet, but Pink Moscato is considered a sweet dessert wine overall, with syrupy textures. This is because Muscat has a propensity to leave behind a high amount of residual sugars. 
While most Rosé you grab off the grocery store shelf might seem sweet, it will often taste slightly dry or off-dry with fruit and floral notes and a mineral aftertaste. 
So the answer is that Rosé is both a sweet and dry wine depending on its grape varietals, residual sugars, and style. It will also depend greatly on the age, as younger Rosé will taste much sweeter than aged Rosé. 
Relax in the Sun With Rosé
The next time summer rolls around, grab a refreshing Rosé and kick back in the sunshine. 
If you're unsure where to start, we offer several rose wines in various styles. The best part (other than their smooth taste and sweet aromas) is that they're all under $20!
See our Wine Blog for recipes, exclusive wine information, and more.