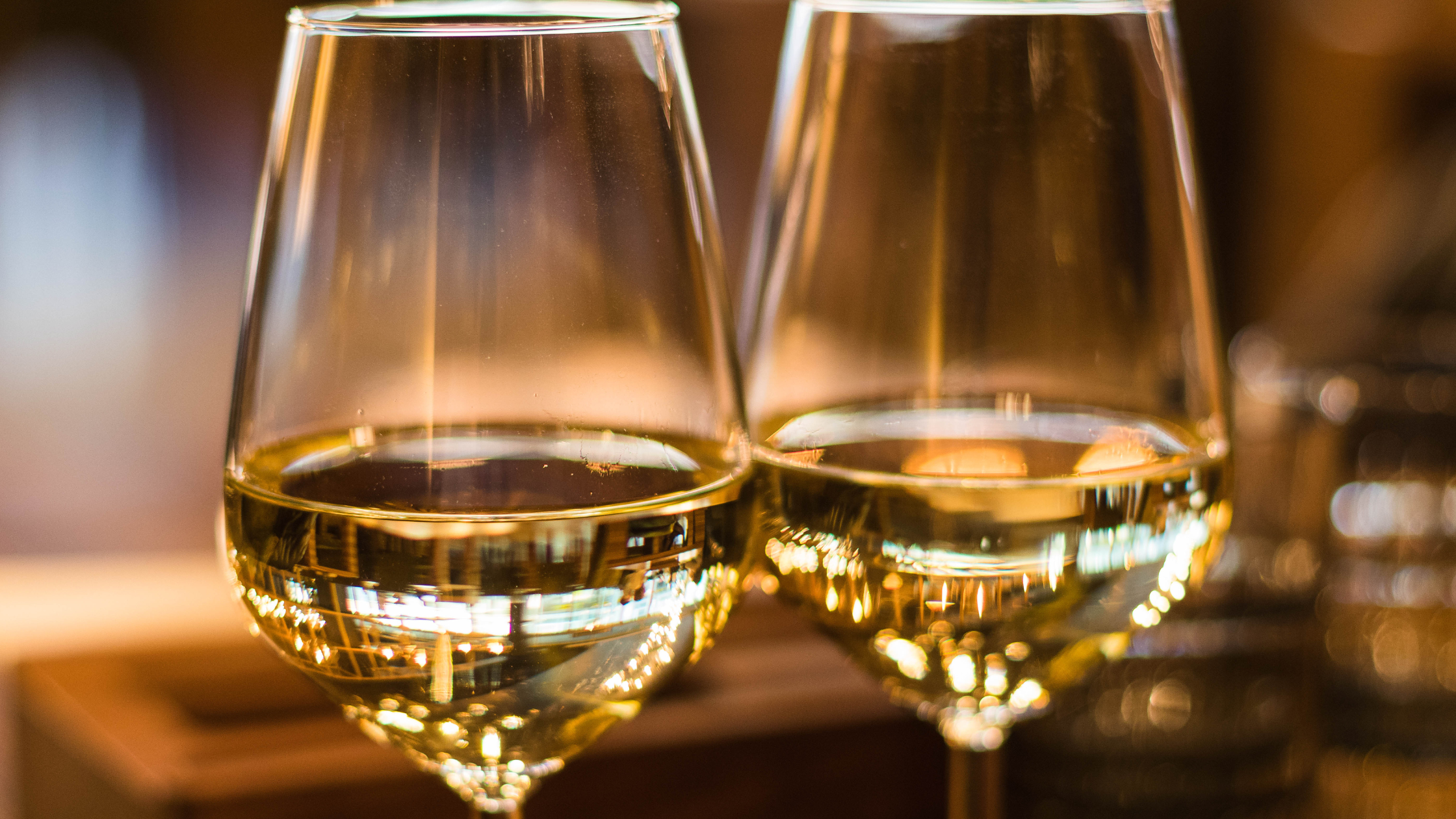 Riesling vs. Moscato
Riesling and Moscato are two of the most delightfully sweet white wines. They also often serve as an introduction for many to the wine world. 
We know that pink Moscato at the grocery store that's been your go-to for years. We love it too. But who can tell the difference when it comes to Moscato and Riesling? 
While these two sweet wines might seem like close cousins, there's no mistaking they're worlds apart. 
Keep reading for a deeper look into the differences between Moscato and Riesling. 
Where Do Moscato and Riesling Come From?
Riesling's origins trace back to 1400s Germany, where the grape varietal was first grown along the Rhine River. By the 1800s, it was more sought after than some of the most esteemed French wines, like Bordeaux and Champagne. 
With a different background, Moscato is thought to have originated in Ancient Egypt. However, more recent variations date back to Italy, where the famous sparkling white wine Moscato d'Asti is produced. 
What Does Riesling Taste Like?
While Riesling and Moscato are both fruity in taste and floral in aroma, Riesling is more acidic with bursting flavors of fresh citrus, peaches, pears, and green apple. But like many wines, Riesling ranges in flavors, sweetness levels, and alcohol content depending on the type and where it's produced. 
The age of the wine will also affect the taste, as young Riesling tastes brighter and crisper than older Riesling. Aged Riesling gives off a very distinct petrol taste and oily texture, which is sought after by experienced Sommeliers but may be off-putting for most. 
Let's peek at the main areas where you can find Riesling to learn more about its taste. 
Germany
As the first country to grow the Riesling grape, it's unsurprising that Germany remains the largest producer of wine today. Along the Rhine River, Riesling is medium-bodied with low alcohol and expressions of peach, apple, and lime. 
In the Rheingau region, Riesling is fuller-bodied but less acidic. Lastly, Riesling grown in warmer areas of the country will take on spicier, more herbal notes. 
Ranging from bone dry to candy sweet and syrupy, most German Rieslings are labeled Kabinett, Spätlese, Auslese, Beerenauslese, Trockenbeerenauslese, and Eiswein, indicating sweetness levels. 
France
In Alsace, Riesling ranges from dry to sweet but is even more aromatic, with pronounced floral scents tickling the nose. There is also an added undercurrent of minerals on the palate, creamy textures, and extra zingy acidity. 
Australia
Australian Riesling is most famous in Clare Valley and Eden Valley, where oily textures and sweet citrus flavors are prominent. Aged Australian Riesling carries an extra note of lime and pleasant honeycomb flavors. 
United States
Alive and thriving on the East and West Coast, Riesling in the United States is ripe with tropical flavors like pineapple and crisp, smooth textures. 
Austria
If you're looking for an intense bouquet of flavor, Riesling, produced in Austria, is fuller-bodied and dry with stone flavors and pleasantly aromatic floral notes. 
But we're not done yet. We still have to talk about Moscato! 
What Does Moscato Taste Like?
With a similar taste and essence as Riesling, Moscato is sweeter with smoother acidity and more potent, perfume like fragrances. This wine comes from the Muscat Grape and is bursting with solid orange blossom scents and peach flavors. It also contains alcohol levels of just 5.5% per volume on average. To contrast, Riesling ranges between 8% and 12% alcohol per volume on average. 
But like Riesling, Moscato has several varieties, so let's dive in! 
White Moscato
Sweet with intense apricot flavors, most white Moscato comes from Muscat Blanc grapes. This wine is lush with honeysuckle and orange blossoms. It teases the palate with an almost bubbly mouthfeel, though it's still smooth. Also known as "Still Moscato," this type is usually dry with significantly lower to practically no sugars. 
Pink Moscato
We're revisiting that supermarket Moscato wine that's oh-so-smooth and tangy. Pink Moscato is light, sweet, and a little fizzy, tickling the palate with red fruit and floral notes. If you love raspberry and pomegranate, this sweet sipper is for you. 
Red Moscato
Famously produced from black Muscat grapes in Italy, this Moscato is bursting with flavors of raspberries, violets, and roses. In addition to the red fruit and floral notes, this wine carries a lovely undercurrent of spice. 
Moscato d'Asti (Sparkling Moscato)
Produced mainly in Italy, sparkling Moscato is under Denominazione di origine controllata e garantita, the country's highest wine classification. It is a sweet, lightly sparkling wine (referred to as "fizzante") with bright fruit flavors and very low alcohol content. 
Asti Spumante
Like Moscato d'Asti, Asti Spumante is another semi-sparkling, light Italian wine under the DOCG classification. Produced from Muscat Blanc grapes, it is aromatic with zippy acidity and flavors comparable to Champagne. 
Dessert Moscato
Dessert Moscato comes in many forms, and they are all sweet as honey. As a dessert wine in general, you can find notes of nectarine, peach, and orange, with some of the sweetest variations being found in Australia. In Spain, there is Moscatel Sherry which tastes silky smooth with caramel flavors. You can find other super sweet Moscatos in France, Sicily, and Greece. 
With so many variations of Moscato and Riesling, knowing what foods will best complement their flavors can take time. Keep reading to see which foods to pair with these wines! 
Riesling Food Pairings
Dry Riesling is acidic with mineral flavors and a full-bodied structure, making it a perfect pairing for white fish and chicken. Semi-sweet and sweet variations of Riesling are known to balance spicy food, which makes sweet Riesling the ideal wine pairing for Asian cuisines like spicy Thai curry. 
Moscato Food Pairings
With low alcohol levels and pronounced sweetness, Moscato is a graceful pairing for spicy Asian cuisines and sweet barbecue meats like pork. Its smooth honey and fruit flavors calm any spice on the palate, making it an easy go-to for any spicy dish. 
While Moscato and Riesling wine have their differences, spicy food pairings are one thing they can agree upon! 
Wines of a Feather
There is a lot of overlap between Moscato and Riesling, so their differences aren't always easy to discern. Both wines contain sweet and fruit-forward variations, making these wines an accessible introduction to newer fans of wine. 
If you're a wine newbie or would like to taste the refreshing sweetness of these grape varieties, check out our selection of Riesling and Moscato!
Curious to learn more about the wine world? Read our Wine Insiders Blog!