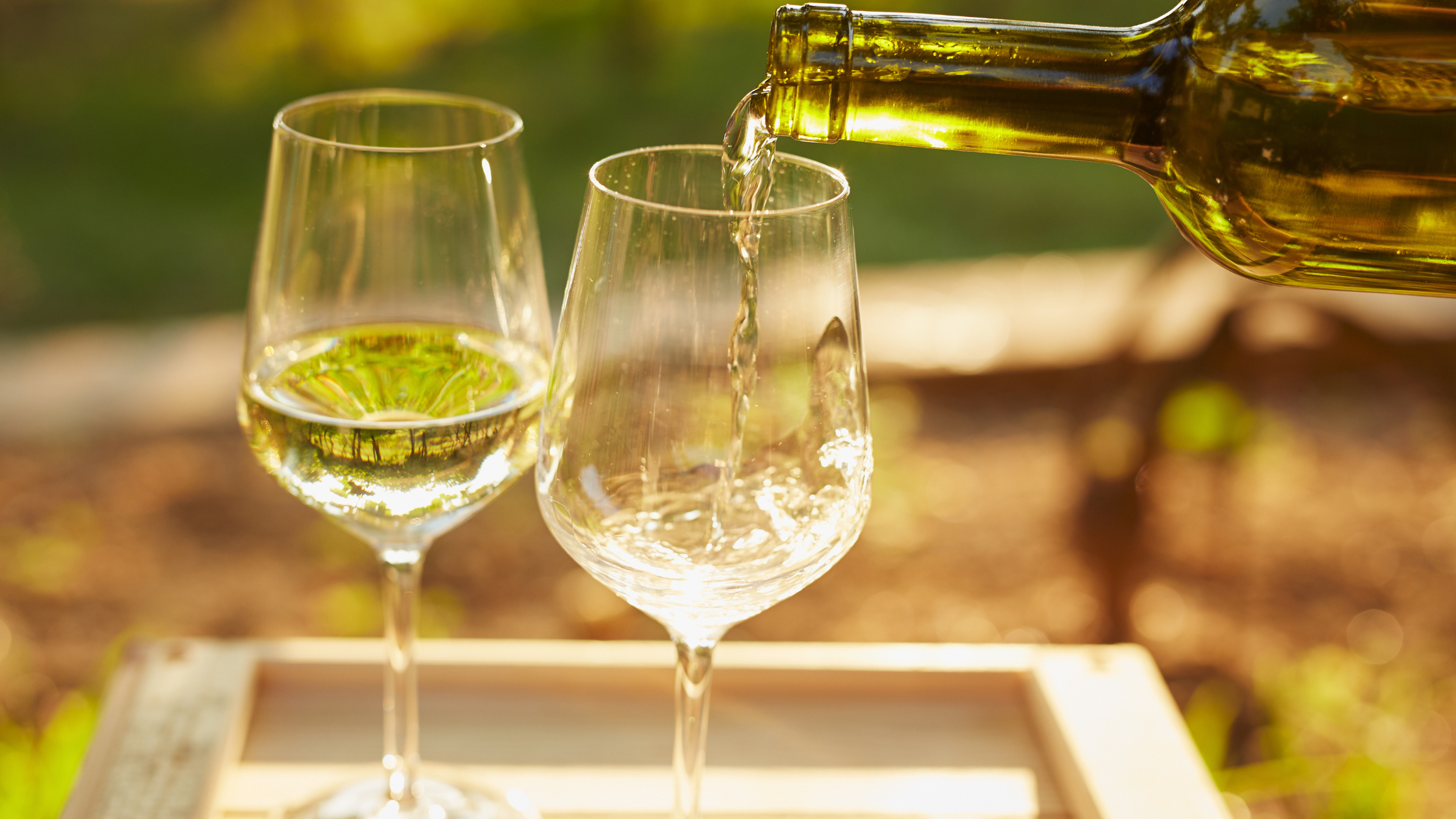 The Ultimate Viognier Wine Guide
When did you last walk through a meadow on a breezy summer or spring day?
Imagine the scent of honeysuckle tickling your nose and damp grass's smoothness between your toes. 
If you've tasted Viognier, you might have imagined a similar experience. 
This delightful, often full-bodied white wine is perfumey and aromatic, like sipping honey nectar. 
But there is so much more to the expressive variety that is Viognier, as you'll see in this blog today. 
Let's look at the characteristics of this esteemed wine from the heart of the Rhône Valley.
Viognier Pronunciation
Similar to its light floral aromas, the sound of this wine's name is also airy as the pronunciation of Viognier is "Vee-ah-nee-ay" or "Vee-ah-nyay."
But where did this light, heavenly-tasting grape come from?
Viognier History
Little is known about the true origins of the Viognier vine, though many believe it was first brought to France by ancient Romans. 
Viognier is thought to have first been grown in the northern Rhône appellations of Condrieu and Château Grillet. 
But by 1965, the grape became almost extinct, with as little as twenty acres produced around that time. 
A funny part of Viognier's viticulture history is that in the 1980s, a group of American winemakers known as the "Rhone Rangers" helped to spark California's interest in French wine. 
Viognier is widely grown in California's central coast, Chile, Argentina, Australia, South Africa, and New Zealand, in addition to Rhône Valley and France's Languedoc Region in the south. 
Viognier Taste
For white wine, Viognier is relatively high in alcohol and low to balanced in acidity, with aromatic notes of tropical fruits like pineapple and stonefruits like peaches, honeysuckle, lavender, pine, and chamomile. 
It often smells like a fresh, floral perfume and contains a full-bodied structure ripe with complexity.
On the palette, Viognier has a somewhat oily consistency and a dry, mineral taste. 
When oak aged, Viogner will taste creamier with lower acidity and flavors of nutmeg and vanilla. 
This is similar to Chardonnay, which is lighter and fruitier in steel barrels but buttery in oak barrels. 
Viticulture
Viognier grapes are challenging to grow due to their unpredictability and propensity to become infected with powdery mildew. Because of this, they are best for picking only when they are fully ripe.
When ripe, the grape variety will have a deep yellow color and high residual sugars, which produce alcohol levels of around 13-14%. 
Regarding growing temperatures, Viogner grows best in the heat, which makes Rhône Valley's Mediterranean climate a perfect home for its vines.
Fun Fact: Did you know some Viognier vines in France are nearly 70 years old?
Côte-Rôtie AOC
In most of Rhône's regions, Viognier is often blended with other white grape varieties like Grenache Blanc, Marsanne, and Roussanne. 
In the Côte-Rôtie AOC (appellation d'origine contrôlée) red wines like Syrah are allowed to include up to 20% of Viognier to bring out its fruitier aromas. 
Because of its fragrant notes and status as a prolific white grape varietal, Viognier is the only white grape variety grown in Côte-Rôtie.
Fun Fact: The appellation d'origine contrôlée is an exclusive certification awarded for unique agricultural products of high quality and tradition. 
Best Viognier Food Pairings
Viognier is often light in flavor so it's best to pair it with dishes that bring out its exotic fruit and citrus notes. 
Because it has high acidity, it can also handle spicy dishes like Thai curry. 
Try this wine with Brie cheese and apricots, saffron rice with orange zest, salmon, mango, butternut squash, roast turkey, and orange chicken. 
Hooray for
Viognier!
If you enjoy an herbaceous white wine that smells as fresh as lavender perfume but is light and dry, Viognier is for you!
Like Chardonnay, this full-bodied white wine with a smooth, oily finish will take on creamy textures and vanilla flavors when aged in oak barrels. 
Originating in the Rhone Valley, Viognier is a proclaimed white varietal and a signature blending component for some of France's traditionally loved whites and reds. 
It's easy to forget that this refreshing white grape variety was once almost extinct, but thanks to specific groups like California's Rhone Rangers, it's now grown in other parts of the world.
If you're looking for a brisk white wine to satisfy your palette, check out our customer-acclaimed White Wine Selection. 
For more of the wine industry facts you crave, read our Wine Insiders Blog!