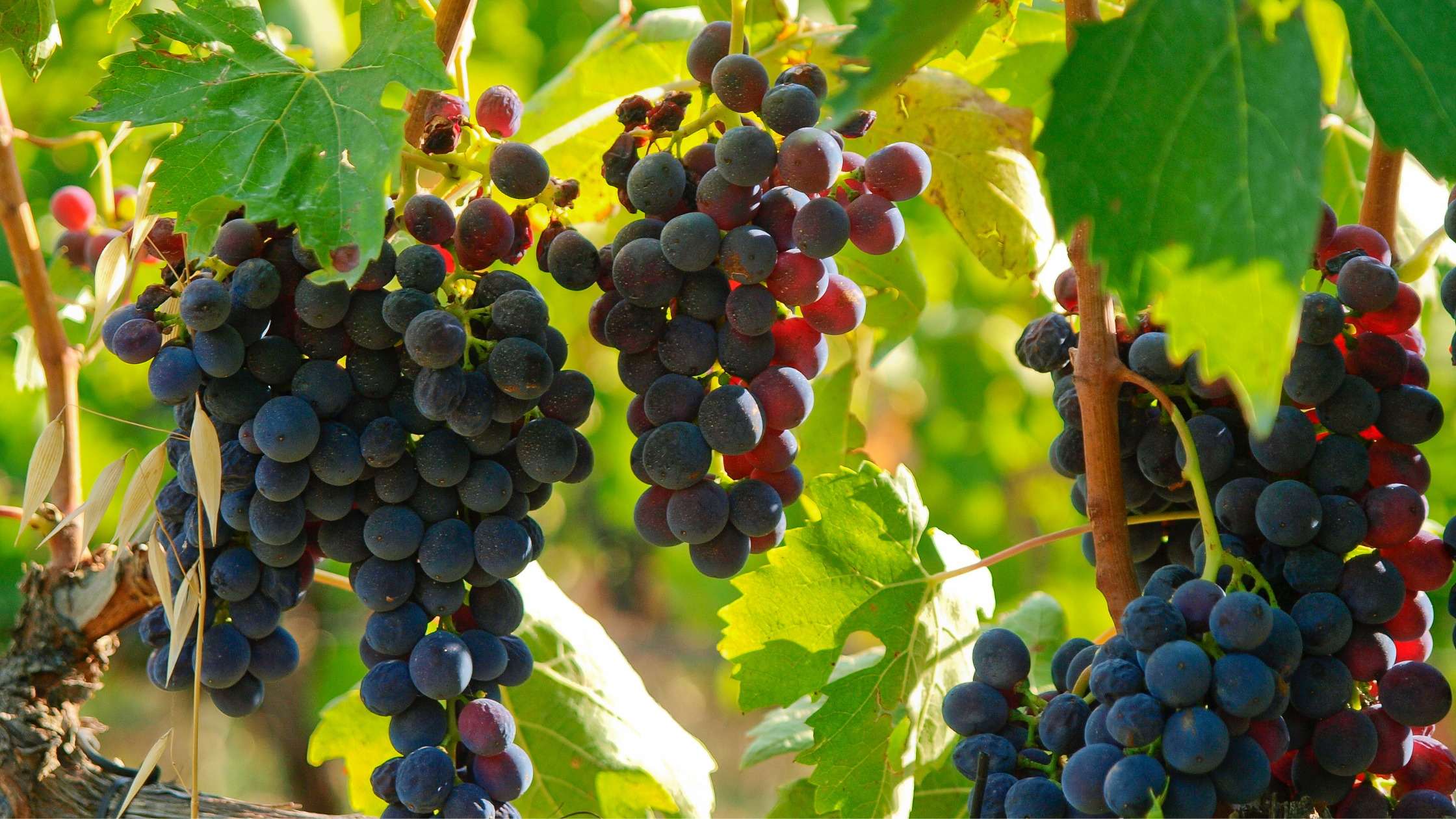 Brunello di Montalcino
One of Italy's most sought-after varietals.
Broo-nell-o dee mon-tal-chee-no
Parents & Origin: Sangiovese (Central Italy) Grape: Small, spherical, dark purple skin Flavors: Tart cherry, red plum, strawberry, fig Notable Regions: Tuscany, Italy (DOCG) Sweetness: Dry Body: Medium Tannins: High Acidity: High ABV: 12-15%
The History of Brunello
The Sangiovese grape can be traced back to ancient Rome, most likely originating in Tuscany, where it is now widely grown and celebrated. DNA profiling from 2004 revealed that Sangiovese's parent grapes were Ciliegiolo and Calabrese Montenuovo. While Sangiovese is used in a wide variety of wines, one of the most famous 100% Sangiovese wines is Tuscany's Brunello di Montalcino.
The first written mention of Brunello came in the 14th century, though it was not widely documented until the early 1800s; most records from this time cite the superiority of wines from the Montalcino region. It is likely that the earliest Brunellos contained a blend of grapes, but by the mid-19th century, varietal Sangiovese was being planted. Finally, in 1888, a winemaker named Ferruccio Biondi-Santi released the first modern version of Brunello di Montalcino, aged for a decade in oak barrels.
After World War II, the Biondi-Santi family was still the only producer of Brunello, and had only released four vintages until this time, establishing Brunello as one of Italy's rarest wines. Little by little, other producers began to make Brunello in the postwar period, and in 1968 the Montalcino region was granted DOC status under Italy's appellation laws. Finally, in 1980, the region was Italy's first to gain DOCG status, the highest possible for Italian wines.
Today, Brunello di Montalcino has over 200 producers that make more than 300 thousand cases per year. However, due to its quality and relatively low production numbers, it remains one of Italy's most expensive and sought-after wines.
Interesting Fact: White DOCG regulations simply stipulate 100% Sangiovese grapes, not all Sangiovese is suited for Brunello. The Montalcino region is known for its unique clones of Sangiovese that have adapted to the local terroir!
Brunello Food Pairings
Due to its high acidity and elegant body, Brunello pairs well with a wide variety of foods.
The Best Brunello Food Pairings
Brunello pairs excellently with heavy meat dishes such as steak and game paired with mushroom sauces. It also can bode well against heavy pasta dishes, stews, and powerful cheeses.
Food Pairings to Avoid with Brunello
Due to its body and tannins, Brunello is not ideal for lighter dishes such as seafood, salad, or poultry.
Brunello Tasting Notes
Compared to other Sangiovese wines, Brunello offers a fleshy texture with primary flavors of blackberry, black cherry, black raspberry, chocolate, leather, and violets. Brunello wines usually have medium-to-high tannins, high acidity, high alcohol, and a medium body. Brunello exhibits an excellent aging potential, with oak aging being universal for a legal minimum of 2 years in oak and 4 months in bottle. Riserva Brunellos require at least an extra year of aging, and the finest examples can be aged for a decade or more.
Young vs. Old Brunello
Brunello's flavors are greatly influenced by the age of the wine. Young Brunellos are filled with fruit and flower flavors, including cherries, dried cranberries, strawberries, blackberries, violets, potpourri, licorice, espresso, and very firm tannins.
Due to its high acidity, young Brunellos have a somewhat astringent note. In contrast, old Brunello's flavor profile offers significant changes. After a decade or more of aging, the wine's fruit flavors are tempered to reveal notes of dried figs, candied cherries, hazelnuts, leather, and chocolate. The tannins and acidity are more refined, leaving a sweeter, pleasant finish.
Brunello's Aging Potential
Brunello's potential for age means that it must undergo a specific process to bring out the best in its flavors. Traditionally, the grapes endure an extended maceration period where color and flavor are extracted.
Following fermentation, the wine is traditionally aged for 3 years or more in large Slavonian oak casks that impart little oak flavor. Some more modern winemakers will use more common French barriques, though these can impart a vanilla flavor. Other producers favor a middle ground where the Brunello is aged in barriques for a short time and then spends a few years in the larger casks.
Brunello's Best Vintages
Unlike most wines, high-quality aged Brunello di Montalcino wine does not come along every year. Only prime ripening seasons, with the perfect mixture of hot and cold, can produce an amazing Brunello which can be aged for decades or more. Some great vintages in their prime drinkability periods are 2004, 2006, 2007, and 2010. Older ones, such as 1997 and 2001, will offer the most refined and candy-like flavors. Brunellos from 2012 and 2015 are also predicted to be exceptional, though a few more years of aging are necessary for the best flavors. Of course, off-year Brunellos will offer a better price point, but the most coveted bottles will come from these famous vintages.
Brunello in a Nutshell
Since its early origins in Tuscany, Brunello di Montalcino has truly encapsulated its coveted terroir as one of Italy's highest-quality wines. After widespread production began post-WWII, a tradition of winemaking practices was solidified into DOCG regulations that ensure the wine's bold flavors and subtle aromas of blackberry, black cherry, black raspberry, chocolate, leather, and violet. Pair a bottle of Brunello with rich meat dishes or heavy pasta—and be sure that the occasion matches the price point!