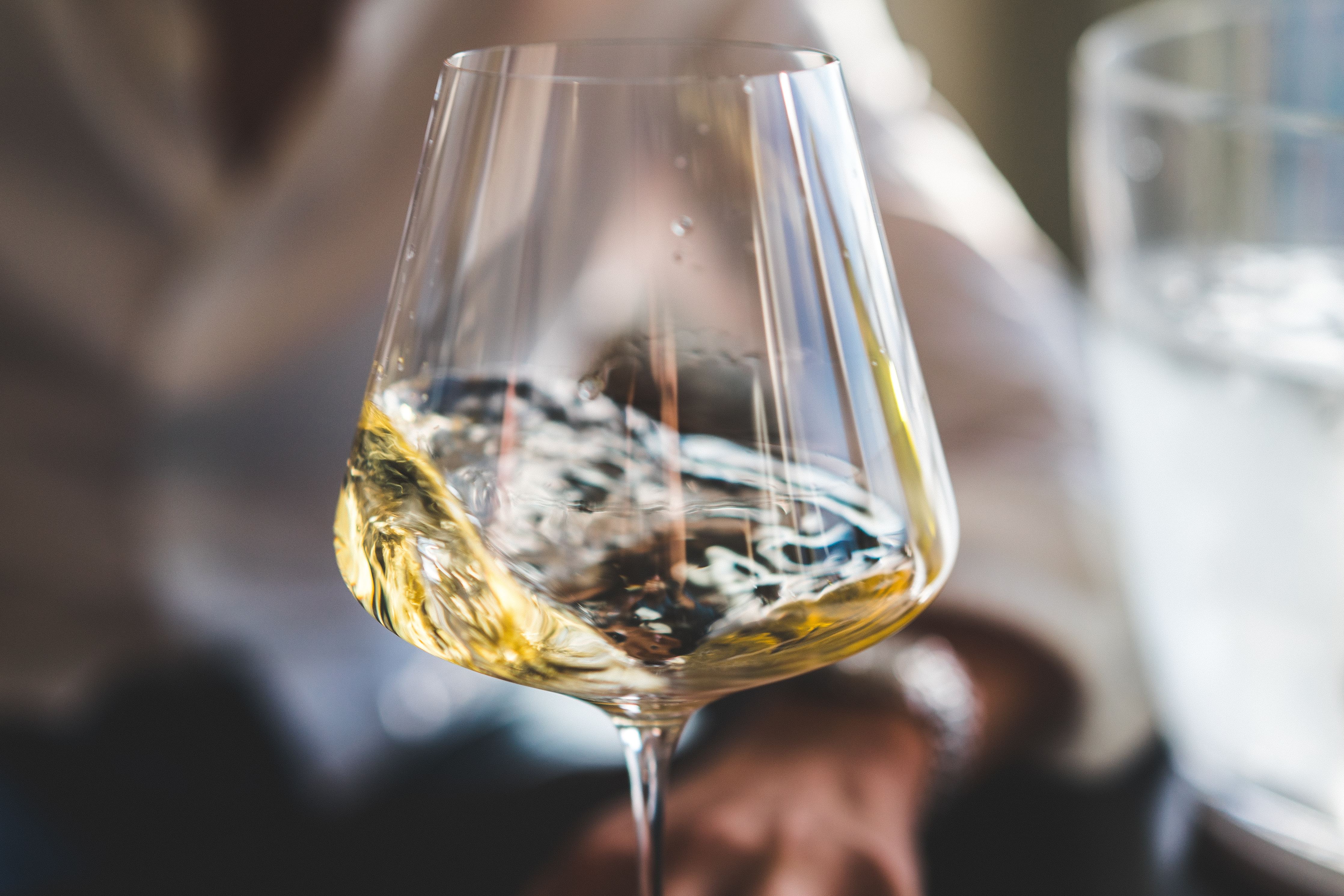 Chardonnay
shar-daw-ne
Parents & Origin: Pinot Noir + Gouais Blanc, Northeastern France
Grape: Green-skinned, sturdy
Flavors: Apple, pear, peach, melon
Notable Regions: Australia, Italy, California, New Zealand, and more
Sweetness: Dry
Body: Medium
Tannins: Low
Acidity: High
ABV: 12-14%
Chardonnay is a white wine grape variety grown in almost every wine region worldwide—and one of the most popular. 93,148 acres of California vineyards were planted with Chardonnay in 2018.
The History of Chardonnay
Originating from Pinot and the nearly extinct Gouais Blanc grape varieties in northeastern France, Chardonnay's history goes back to the middle ages. Winemakers love Chardonnay for the blank slate it allows them to create with. The wine is incredibly dynamic and will take on various characteristics depending on the soil, terroir, how it's aged, and much more.
Chardonnay is the first truly international varietal, as its versatility allows it to grow in almost any climate. Flavors will vary depending on where your wine was grown and the aging process it was taken through.
Anything but Chardonnay
Big business almost ruined Chardonnay for everyone, sparking The Anything But Chardonnay movement in the 1980s. Large wineries put profits over taste, and once-refined Chardonnays turned into creamy, buttery, overly sugary wines.
Consumers began associating Chardonnay with "ignorant" wine drinking and spawned the ABC movement, removing Chardonnay from wine experts' consideration for at least ten years. Thankfully, wineries responded by experimenting with different ways to prepare and present the grape, leading to its mass popularity today.
Interesting Fact: Winemakers first blended with its parent grape Pinot Noir in Burgundy to produce Champagne, causing Chardonnay's total acreage to skyrocket. Today, Chardonnay is the world's most widely planted white grape variety.
Unoaked vs Oaked Chardonnay Tasting Notes
The difference between unoaked and oaked Chardonnay is relatively straightforward. One is aged in oak, while the other is not. Unoaked Chardonnay often boasts crisp, fruity flavors while oaked Chardonnay imparts more notes of vanilla, caramel, and even butter.
Unoaked Chardonnay
Unoaked Chardonnay is closer in style to Sauvignon Blanc than oaked chardonnay, though Chardonnay has fewer "green flavors." Unoaked Chardonnay typically has a more "refreshing" taste, and flavors of apples and lemons shine through.
If you prefer your wine to be more minerally and on the dryer side, you should consider unoaked Chardonnay over-oaked Chardonnay.
Oaked Chardonnay
If you love a white wine with a hint of butter, Chardonnay should be your first choice.
Oaked Chardonnay sparked the ABC revolution of the 1980s but has found itself more balanced and drinkable. Cooler climate oaked Chardonnays will espouse citrus flavors, while warmer climate Chardonnays will show tropical fruit flavors.
Those who enjoy a smooth and rich wine should go for a buttery Chardonnay.
Malolactic Fermentation
Oaked Chardonnay undergoes a natural chemical called malolactic fermentation when the wine is stored in oak barrels. 
This fermentation causes the malic acid found in unoaked Chardonnay, which produces fruity flavors, to change into lactic acid, a quality usually found in milk. This is how we get the buttery qualities that make oaked Chardonnay a better companion with heavier dishes.
Is Chardonnay Dry? Or Is Chardonnay Sweet?
Most Chardonnay winemakers learned their lesson in the 1980s. After sales plummeted due to an over-reliance on residual sugars, most switched to craft more refined Chardonnays with smaller sugar counts and more dry flavor profiles.
So, whether you prefer your Chardonnay rich and buttery or crisp and acidic, you'll find that most Chardonnays today are dry or slightly off-dry with only a hint of sweetness.
Best Chardonnay Food Pairings
Due to the wide range of styles that Chardonnay comes in, it has the potential to be paired with a variety of foods.
Unoaked Chardonnay Food Pairings
Chardonnay is most commonly paired with roasted chicken and other light, white meats. Unoaked Chardonnay goes well with delicate fish, seafood dishes, and really just about anything. But, if you have a heavily oak-influenced Chardonnay, you risk overwhelming the delicate flavors in delicate dishes. Unoaked Chardonnay also pairs well with cheeses, specifically Alpine-style. Gruyere and challerhocker are two great Alpine-style kinds of cheese you can use.
Interesting Fact: Alpine-style cheeses are hard cheeses made with milk from cows that grazed on seasonal flowers, herbs, and grasses at higher elevations.
Oaked Chardonnay Food Pairings
Oaked Chardonnays are typically heavier in "butter" and will pair with more intense dishes than unoaked Chardonnay. Turn to smoked fish and guacamole with these wines. Another approach is to go with simply-prepared seafood like seared scallops. The simplicity of the food will actually allow the Chardonnay to shine and the flavors in the dish to pop.
Chardonnay in a Nutshell: The Gateway Grape
It's impossible to precisely boil down Chardonnay into a few sentences due to its versatility and chameleon-like profile.
Chardonnay can be whatever vintners want it to be. Almost no other grape varietal allows the winemaker the level of control in deciding what the flavor profile will be.