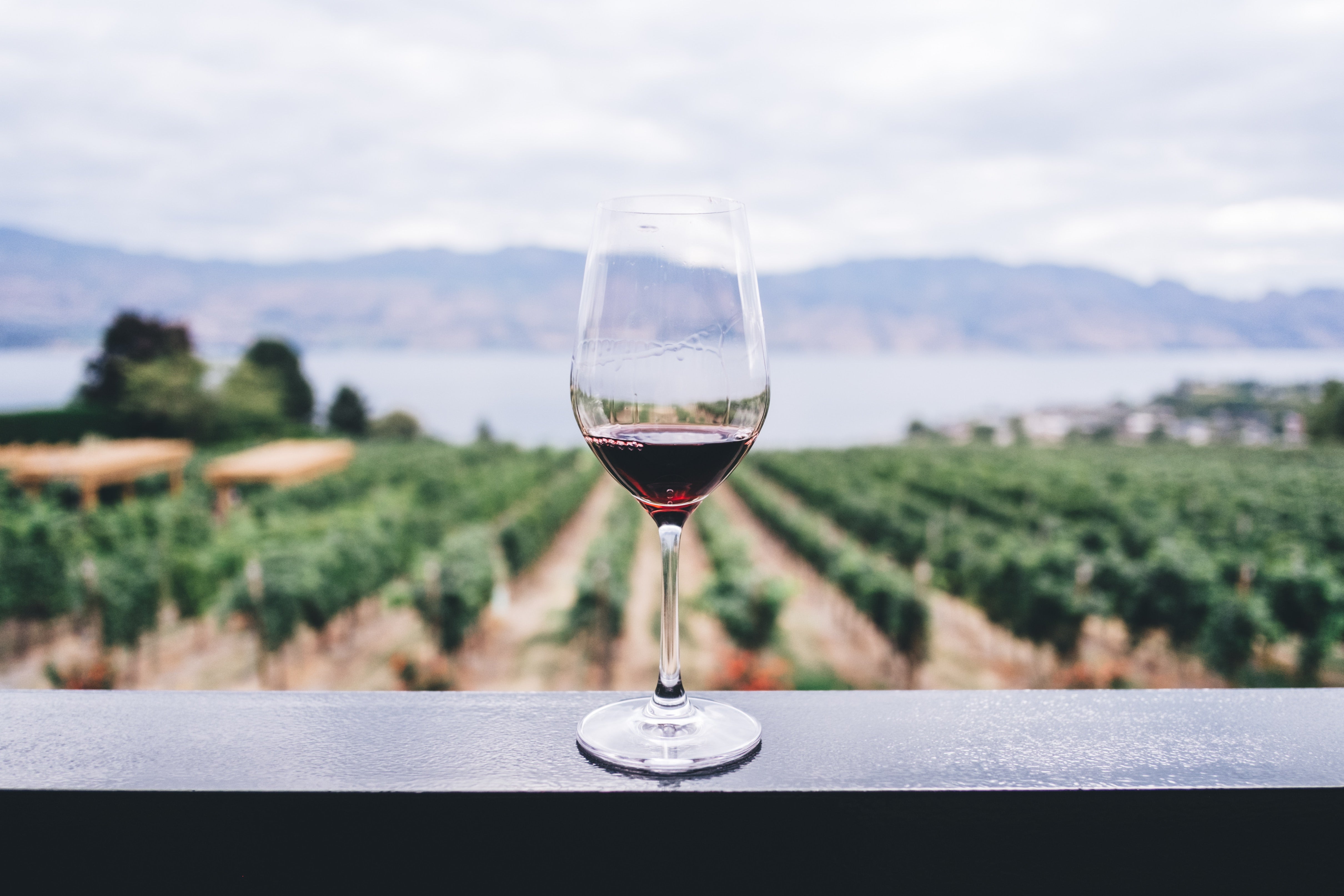 A Comprehensive Guide to Red Wine
by Ferdinando Mucerino
For thousands of years, wine has been produced for religious purposes, celebrations, or even to enjoy a great meal. Red wines can be tricky to differentiate from one another aside from the name on the label, but what is going on with the wine's palate and aromas (nose) that causes certain wines to be so different?
In this guide, we dive into the distinct flavor profiles associated with each popular type of red wine, so the next time you place an order for wine, you'll be confident you know what you're getting and educated on the terroir and grape that the wine comes from.
Learning the history behind the bottle only enhances the experience you get consuming it. You can also check out our other wine guides if you want to learn more.
How is Red Wine Made?
Red wines get their color from grape skins. All grape juice is clear, almost as clear as water. The color of wine comes from a pigment in the grape's skin. When the grapes are crushed, this pigment dissolves into the juice giving the wine its color.
Rosé is made from red grapes. The pigment of red grapes is called Anthocyanin. This pigment is not unique to grapes. Anthocyanins are present in all black, blue, and red fruit and vegetables.
The Process of Making Red Wine
Grow grapes: The quality of the grapes determines the quality of the wine more than anything else.

Harvest the grapes: Typically from early September until early November in the northern hemisphere and mid-February until mid-March in the southern hemisphere. This is done by hand or with mechanical harvesters (large tractors).

Alcoholic fermentation: Yeast converts sugar molecules into alcohol and CO2

Pressing: Some winemakers do this while others don't. Pressing is exactly what it sounds like--applying pressure to the grapes to separate the juice from the skins.
Interesting Fact: For white wines, 3 and 4 are typically reversed. Winemakers will press first and then fermented in barrels or tanks.
Aging: There are four main vessels used for aging wine: (point 6 happens after 7)
Amphora
iNOX (Stainless Steel)
Oak Barrels
Concrete
Malolactic Conversion: This softens the taste of wine, especially if it has higher levels of malic acid. This can cause a harsh and bitter taste to develop in the wine. In the conversion process, lactic acid and more C02 are produced, allowing for a - softer taste and a creamier texture. The wine's pH levels are closely monitored during the process.
Racking/Fining: Removing the clear wine from the sediment. In addition, fining agents remove lees and particles that cloud the wines.
Preservatives: Sulfur dioxide (SO2) is normally added as a preservative to wine to prevent bacterial spoilage.
Filtration: Pass the wine through filters to remove any remaining sediment
Bottling: The wine is now sent to the bottling line, where it will be packed and stored until it can be delivered straight to you!
Red Wine Varietals
From Lightest to Full-bodied Bold
Gamay
Notable Regions Grown: Willamette Valley, Loire Valley, Beaujolais, Niagara Peninsula
Origin: France
Sweetness: Dry
Flavors: Black currant, cherry, raspberry, violet, soil, bananas
Gamay is the lightest wine on our list and is a purple-colored grape variety used to make red wine. Gamay is a cousin of Pinot Noir and tastes very similar to its fellow light-bodied counterpart.
Food Pairing with Gamay
Gamay is a red wine typically served at the beginning of dinner. As such, there are better red wines to pair with your traditional steaks. However, that doesn't mean there aren't other great dishes to pair a good bottle of Gamay with! These are our favorite foods to pair with Gamay:
Meat: Roasted or grilled chicken.
Seafood: Crab (as well as other shellfish) and Salmon.
Cheese: Brie
Vegetables: Spinach, beets, and acorn squash.

Pinot Noir
Notable Regions Grown: Oregon, Tasmania, Russian River Valley, Burgundy
Origin: France
Sweetness: Dry
Flavors: Cherry, raspberry, mushroom, vanilla, hibiscus
Derived from the French words for pine and black, Pinot Noir refers to wines made 100% from pinot noir, but it can also refer to blended wines that consist predominantly of Pinot Noir. Pinot Noir is hands down the world's most popular light-bodied red wine, beloved for its spicy aromas accentuated by a smooth finish.
Burgundy produces some of the best Pinot Noirs in the world. Pinot Noir is hands down the world's most popular light-bodied red wine, long loved for its. the balance between savory and fruity aromas and its smooth finish.
Food Pairing with Pinot Noir
The high acidity and low tannin profile of Pinot Noir lend itself to pair well with just about any type of food. This makes it a highly versatile wine. That being said, these are our favorite foods to pair with Pinot Noir:
Meat: Duck, pork, and game birds.
Seafood: Salmon or any other fatty fish.
Pasta: Any kind of pasta; however, we prefer a red sauce base.
Cheese: Gruyere.
Vegetable: Mushrooms.
 
Grenache/Garnacha
Notable Regions Grown: Sardinia, Rioja, Rhône, Languedoc
Origin: Spain
Sweetness: Dry to medium-dry
Flavors: Leather, grilled plum, strawberry 
Most notably produced in the Southern Rhône region of France, this grape calls Spain its home. Easily identified by its slight taste of leather, grenache is one of the world's most widely planted red wine grapes and prefers hot and dry conditions.
Food Pairing with Grenache/Garnacha
Grenache can withstand hearty dishes, like cassoulet, so don't be afraid to pair this wine with heavier meals. These are our favorite foods to pair with Grenache:
Meat: Braised beef and veal.
Seafood: Not an ideal wine for seafood, but oil-poached tuna or swordfish can work well.
Pasta: High acidity red sauce dishes with meat and/or cream.
Cheese: Camembert.
Vegetable: Vegetables spiced with cumin.
Cabernet Franc
Notable Regions Grown: Bordeaux, Loire Valley
Origin: France
Sweetness: Dry
Flavors: Strawberry, roasted pepper, crushed gravel
Mainly produced in France, specifically Bordeaux, you'll typically find Cabernet Franc in famous Bordeaux blends more than you will by itself. Cabernet Franc is actually the parent grape of Merlot and Cabernet Sauvignon and has a blue-black berry skin.
Food Pairing with Cabernet Franc
Cabernet Franc's higher acidity level makes it the perfect pairing for tomato-based dishes (looking at you, pasta), but these are our favorites:
Meat: Roasted pork and beef burgers.
Seafood: Crispy skin trout.
Pasta: Meatballs in tomato sauce.
Cheese: Goat and Feta.
Vegetables: Red Bean, Roasted Red Pepper, Tomato, Spinach.
Sangiovese
Notable Regions Grown: Tuscany (Toscana), Umbria, Campania
Origin: Italy
Sweetness: Dry, semi-sweet
Flavors: Tart cherry, oregano, thyme, red plum
Outside of Italy, Sangiovese production is almost non-existent, but within Italy's borders, you can find Sangiovese grapes from Tuscany to Campania and everywhere in between. It's the most widely planted grape variety in Italy!
Food Pairing with Sangiovese
This tannin powerhouse works best with fatty, rich dishes with little sugar. These are some of our favorites:
Meat: Cured sausage.
Seafood: Branzino.
Pasta: Seafood pasta.
Cheese: Parmesan.
Vegetable: Roasted brussels sprouts and mushrooms.

Barbera
Notable Regions Grown: Alba, Puglia, Monferrato, Central Valley
Origin: Italy, Monferrato
Sweetness: Dry
Flavors: Violet, Vanilla, Nutmeg, Sour Cherry, Blackberry
Known for its deep color and full body, Barbera's are typically low in tannins with high acidity levels. A noir-colored berry skin contributes to the beautiful color Barbera wines have. The high acidity imparts a "freshness" into the wine and makes it well-liked amongst wine drinkers.
Food Pairing with Barbera
With its high acidity, Barbera wines typically work well with high tannin or fatty dishes to almost "complete" the dish. These are our favorites:
Meat: Guinea Fowl.
Seafood: Salt cod and bacalà.
Pasta: Tajarin Pasta.
Cheese: Blue cheese.
Vegetables: Mushrooms, root vegetables, and roasted peppers.
Merlot
Notable Regions Grown: Bordeaux, Toscana (Tuscany), California
Origin: France
Sweetness: Dry
Flavors: Black cherry, plum, cedar, tobacco,
Often compared to the more popular Cabernet Sauvignon, Merlot gets a bad rep from the mass-produced California wines of the 1990s that were artificially sweetened. It's unfortunate because left untouched, Merlot is one of the most easily approachable red wines and is recommended for those who are just starting to drink red wine.
Food Pairing with Merlot
Merlot matches with a variety of foods and actually goes well by itself, but if you're looking to pair it with food, these are our favorites:
Meat: Steak with chimichurri sauce, meatloaf, and shepherd's pie.
Seafood: Shellfish.
Pasta: Penne with tomato sauce and pancetta.
Cheese: Aged goat cheese.
Vegetables: Roasted squash, roasted red peppers, and beets.

Montepulciano
Notable Regions Grown: Abruzzo
Origin: Italy
Sweetness: Dry
Flavors: Pepper, spice, blackberry
Not to be confused with the Vino Nobile di Montepulciano, a Tuscan wine made from primarily Sangiovese grapes, Montepulciano d'Abruzzo is one of the most widely exported DOC wines in Italy. You've probably had Montepulciano if you have ordered red wine at your favorite Italian pizza spot! Under Italian wine laws, a Montepulciano d'Abruzzo must have at least 85% Montepulciano and can not be lower than 12% in alcohol.
Food Pairing with Montepulciano
Typically consumed young, Montepulciano wine has soft tannins and is known for going extremely well with pizza.
Meat: Beef brisket.
Seafood: Salmon and swordfish with basil.
Pasta: Beef bolognese.
Cheese: Aged cheddar and parmesan.
Vegetable: Baked potato, collard greens, winter farro, and sunchokes.
Any pizza and preferably Neapolitan style, of course.

Zinfandel
Notable Regions Grown: California, Puglia
Origin: Croatia
Sweetness: Dry-sweet
Flavors: Berry jam, black pepper, anise, cinnamon
Close to 85% of total Zinfandel production is for white zinfandel! While most wine connoisseurs bash white zin, red zinfandel offers a complex and sophisticated palate that is unusually different than most reds. Though lighter in color than Cabernet Sauvignon and Merlot, it's higher tannin and very high acidity make red Zin a bold and powerful wine. Zinfandels will have 14% ABV on the lower end, but some can reach 17% or more.
Food Pairing with Zinfandel
Zinfandel's higher tannin, more full body, and sweeter profile than most red wine lends itself well to barbecue and curry dishes. Our favorites:
Meat: Pork tonkatsu and barbecued red meat.
Seafood: Seared or grilled tuna.
Pasta: Lasagna.
Cheese: Manchego.
Vegetable: Roasted tomato, caramelized onion, peach, and cranberry.

Tempranillo
Notable Regions Grown: Rioja, Ribera del Duero
Origin: Spain
Sweetness: Dry
Flavors: Berry, plum, vanilla, herbs
Tempranillo is the third most widely planted wine grape variety in the world, and 88% of this production comes from Spain. Its name is the diminutive of "temprano", meaning "early" in Spanish, referring to the fact that it ripens several weeks earlier than most Spanish red grapes. A high-quality and versatile grape, when in doubt, choose a Tempranillo.
Food Pairing with Tempranillo
Tempranillo is a versatile wine that pairs well even with Mexican food because it is famous for its beautiful pairing with traditional Spanish cuisine. These are our favorites:
Meat: Spanish ham (Jamón ibérico pata negra), barbecued meats and tacos.
Seafood: Salmon or swordfish with pepper.
Pasta: Jambalaya Pasta.
Cheese: Manchego.
Vegetable: Corn or any grilled vegetable.
Nebbiolo
Notable Regions Grown: Piedmont, Italy
Origin: Italy
Sweetness: Dry
Flavors: Rose, violet, tar, cherry, leather, clay pot
The Piedmont region where Nebbiolo was born is famous for its Barolo and Barbaresco wine, but many don't realize that Nebbiolo is the only grape used to make these high-end wines. Generally, the grapes grown to make Barolo and Barbaresco are within feet of those used to make Nebbiolo, but the classifications in Italy make it so that only a few villages in the region of Piedmont can label it as Barolo and Barbaresco. One of the unique aspects of Nebbiolo is its nose, or scent--the wine smells like roses.
Food Pairing with Nebbiolo
Unforgivingly tannic, Nebbiolo is a powerful, full-bodied wine that visually appears to be light and delicate by its color. Don't be fooled, this wine needs to be paired with something that has substance and fat. These are our favorites:
Meat: Prime rib roast.
Seafood: Herring.
Pasta: Buttered noodles with truffles.
Cheese: Robiola.
Vegetable: Roasted garlic, truffle, mushrooms, olive, caper, and leeks.
Nero d'Avola
Notable Regions Grown: Sicily
Origin: Sicily, Italy
Sweetness: Dry
Flavors: Black cherry, licorice, chili pepper, plum
Nero d'Avola is almost entirely produced in Sicily and loves an arid climate. It's known for its intense fruit flavor and full body (think Cabernet Sauvignon and Syrah-level body).
Food Pairing with Nero d'Avola
With its bold fruit flavors, you will typically want to go with rich meat to match its intensity. Some of our favorite pairings are:
Meat: Umami burger and oxtail.
Seafood: Palermo-style tuna.
Pasta: Beef and pork ragù.
Cheese: Raclette.
Vegetable: Shiitake mushrooms.
Malbec
Notable Regions Grown: Cahors (France), Chile, Argentina
Origin: France
Sweetness: Dry
Flavors: Dark fruit, smoke, raisin, chocolate
Malbec is used often in blends, from the Right Bank in Bordeaux to Argentina. However, a 100% Malbec wine is extremely full-bodied and has a nice, short, sweet finish. Malbec varies substantially between France and Argentina. Argentinian Malbec is highlighted by dark fruits and nuanced by chocolate flavors. French Malbec is leathery, with a savory bitterness due to its higher acidity that comes out as black pepper.
Food Pairing with Malbec
Medium in tannin and acidity, Malbec is a crowd-pleaser with or without food. These are our favorites:
Meat: Leaner meats.
Seafood: Halibut.
Pasta: Pesto pasta.
Cheese: Blue cheese.
Vegetables: Black beans, arugula, kale, green and red bell peppers.

Cabernet Sauvignon
Notable Regions Grown: Everywhere!
Origin: France
Sweetness: Dry
Flavors: Jam, black pepper, green bell pepper, asparagus, cedar, black cherry
Cabernet Sauvignon's popularity began through Bordeaux blends with Merlot and Cabernet Franc. From there, it has spread worldwide, now being grown in almost every major wine-producing country, from cold climates to warm. Cabernet Sauvignon is universally recognized for its jammy, dense, dark, and tannic profile. Cabernet Sauvignon is actually the child of Sauvignon Blanc and Cabernet Franc.
Food Pairing with Cabernet Sauvignon
Its rich flavor and high tannin content make Cabernet Sauvignon perfect for meats. By itself, Cabernet Sauvignon can sometimes be overwhelming, so here are some of our favorite pairings to try:
Meat: Steak - ribeye, new york, porterhouse, and filet.
Seafood: Not a great match.
Pasta: Heavy, red-sauce-based pasta.
Cheese: Aged cheddar and aged gouda.
Vegetables: Mushrooms, eggplant, and roasted tomato.

Syrah/Shiraz
Notable Regions Grown: Rhône (France), Barossa Valley (Australia)
Origin: France
Sweetness: Dry
Flavors: Blackberry, blueberry, plum, mint, rosemary, herbs
Syrah is the only red wine grape planted in Northern Rhone and is heavily planted in France. In addition, it is the most planted grape in Australia. Here, they call it Shiraz. Syrah is a punch of flavor in the mouth at first taste but slowly tapers off with spicy herbs.
Food Pairing with Syrah/Shiraz
Full-bodied, high in tannins, and medium in acidity make Syrah a companion for the darker meats. These are our favorite pairings:
Meat: Cassoulet and lamb.
Seafood: Tuna tartare.
Pasta: Lamb ragu pasta.
Cheese: Cheddar and Camembert.
Vegetable: grilled vegetables and roasted lentils.

Bordeaux Blend
Notable Regions Grown: Bordeaux
Origin: Bordeaux
Sweetness: Usually dry
Flavors: Cassis, black currant, cedar, plum, oak, coffee bean
Food Pairing with Bordeaux Blends
This tannin powerhouse works best with fatty, rich dishes with little sugar. These are our favorites:
Meat: Filet Mignon, venison and pot roast.
Seafood: Mackerel.
Pasta: Baked rigatoni with beef.
Cheese: Brie and Camembert.
Vegetable: Roasted potatoes, mushrooms, onion, and chestnut.


Other Red Blends
Red blends are winemakers' way of ensuring quality and bringing their unique visions to life. Sometimes two, three, or even four grapes allow a winemaker's artistic expression to shine and truly bring the quality of the grapes out from one another. While the red Bordeaux blends are typically composed of Cabernet Sauvignon, Merlot, and Cabernet Franc, red blends are created worldwide from hundreds of different kinds of grapes.

Red Wine in a Nutshell
There's a vast selection of red wine varietals in the world, and this guide by no means covers them all. That said, it should give you a solid foundation of wine knowledge that you can use to select your next red wine. As always, listen to your palate, and if we tell you something is supposed to taste like black cherries, but you taste vanilla, then your opinion is the one that matters! Above all, wine is meant to be enjoyed.