Spotlight on: EthicDrinks
"We are passionate about wine and protecting the planet."

Based in Bordeaux, France, EthicDrinks takes an environmentally friendly approach from vine to glass. The company offers fresh, fruity wines from carefully selected vineyards that use sustainable, organic, and/or biodynamic methods in winemaking.
Transparency Beyond the Bottle
As a certified B Corporation, EthicDrinks is committed to social and environmental responsibility and using business as a power for good. Beyond sharing quality wines, EthicDrinks partners with conservation-focused organizations like The World Wide Fund for Nature France (WWF France).

Sustainability Above All
From sourcing to packaging to shipping, EthicDrinks is meticulous in ensuring each step is respectful to the environment.

Eco-Conscious Packaging
Every bottle is plastic-free and 100% recyclable, made from recycled or natural materials including glass and natural cork.

Reducing Its Footprint
Certified as carbon neutral, EthicDrinks limits and offsets emissions by using ecological transport and planting trees.
Elegant, balanced, and full-bodied
Sale
Elegant, fruity, and medium-bodied
Sale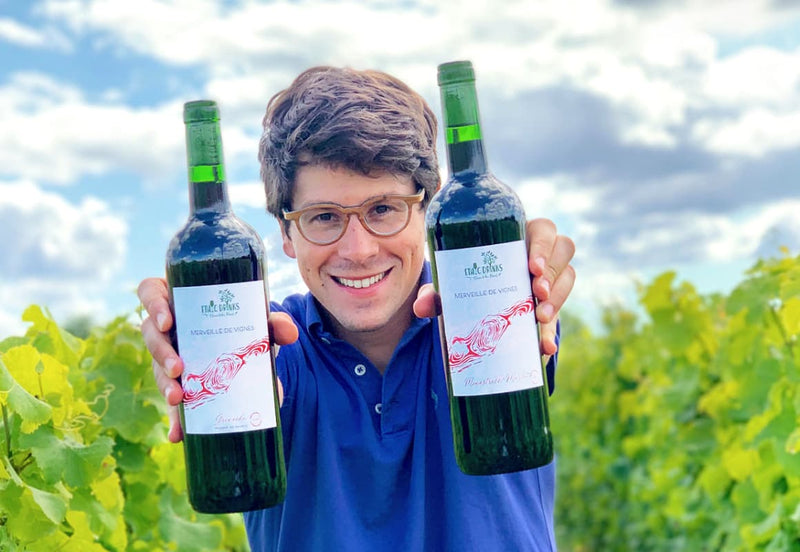 Meet the Founder
The grandson of Burgundy grape-growers and the son of an environmentalist, Mickael Alborghetti blended his passions to start EthicDrinks in 2019.
My greatest wish is to combine my love of wine with my aspiration to come to the aid of our planet
– Mickael Alborghetti, Founder & CEO