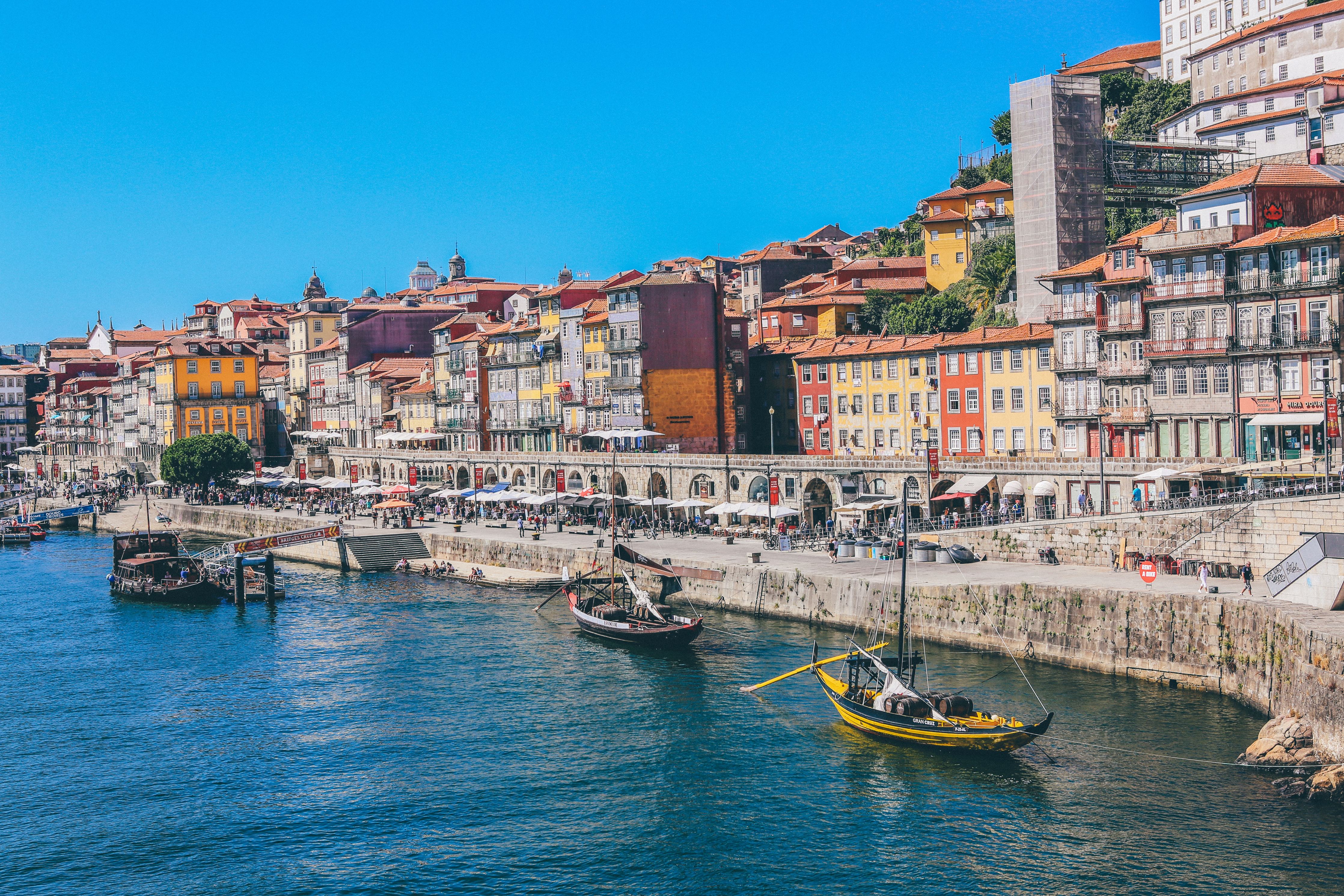 Portuguese Wine Guide
Often underrated when compared to its Old World counterparts of Spain, France, and Italy, Portugal is a thriving wine country that overflows with delicious varietals and blends.
With distinctive viniculture and a national passion for wine, the Portuguese grow a diverse mix of grape varieties unique to their regions' special blend of climates, terrains, and traditions.
These indigenous varieties account for Portugal's myriad, lovely vinhos and inspire wine lovers worldwide to visit its breathtaking vineyards full of culture and history.
Let's break down the history of this Old World wine mecca and dive into its internationally-renowned regions, wineries, and bottles in our Wine Insiders Guide to Portuguese Wine:
The History of Portuguese Wine
Like many European countries, Portugal has a rich, vibrant history that stretches back many centuries.
Let's analyze the origins of Portuguese wine and how the country shaped its vinho culture:
Ancient Beginnings
In 2000 BC, the first wines were grown in modern-day Portugal's Tejo and Sado valley regions.
At this time, the Tartessians, an ancient people famous for their wealth, controlled the swath of the Iberian Peninsula that would eventually become Portugal.
Combining their funds, land and love of wine, the Tartessians created the region's first vineyards and fostered an appreciation for local grapes.
In the centuries to follow, several powerful civilizations, like the Phoenicians, Ancient Greeks and the Romans, would subsequently conquer modern-day Portugal.
Building upon Tartessian viniculture, these ancient powers brought influences from winemakers across modern Europe and the Middle East and created a unique wine culture.
Economic Success
While the land that makes up modern-day Portugal always suited wine production, only in the 14th century did the Portuguese wine industry become uber profitable.
At that time, Great Britain was a global power with far-reaching influence and an insatiable appetite for wine. Their empire, and its tremendous financial backing, could turn the fortunes of nearly any industry.
Seeing an opportunity to grow their economy, the Portuguese government met with British leaders and signed the Treaty of Windsor -- a political and economic alliance between Portugal and Britain.
This development became highly valuable in the coming centuries, as Britain consistently came into conflict with France, its primary wine supplier.
In the 17th century and beyond, Portuguese wines like Port and Madeira became incredibly popular in Britain.
At times, Portugal accounted for 66% of British wine imports, dramatically increasing the profits and fame of the Portuguese wine industry.
Hard Times
After the decline of the British empire, Portugal's wine producers targeted new regions throughout the world.
Initially, they profited from booming regions like Brazil and West Africa, but demand in these locations would soon decrease as well.
Going from bad to worse, Portugal's wine industry would completely bottom out in the 19th century with the phylloxera epidemic, a wave of insect pests that destroyed vineyards across Europe.
It would be centuries before Portuguese wine would recover its international acclaim.
Modern Comeback
Following a turbulent first two-thirds of the 20th century, the Portuguese wine industry mounted a recovery in the 1980s.
Upon Portugal's entry into the EU in 1986, the country pumped millions of dollars into smaller wineries throughout the country to stimulate increased production and sale of wine.
This development coincided with the creation of the Denominação de Origem Controlada (DOC), an appellation system that brought the quality standards of Portuguese wine more in line with those from France, Italy, and Spain.
These decisions to focus on small, local wineries improved quality and paid off substantially.
In the last 30 years, Portugal once again began to mass-produce a delightful mix of fortified and non-fortified wines from great growing regions like Douro and Vinho Verde.
Now the world's 9th largest wine exporter, Portugal sold varietals and blends worldwide to the tune of over $900 million in sales in 2019.
Portuguese Wine Regions
Portugal contains many beautiful and diverse wine-growing areas, each with a unique vinicultural profile.
For our purposes, let's focus on three of the most noteworthy and celebrated regions:
Douro
Northern Portugal's Douro is one of Europe's most beautiful and bountiful wine-growing regions.
A UNESCO world heritage site and the capital of Portuguese wine, the Douro Valley is home to the second-largest river in Portugal and features myriad hills dotted with terraced vineyards since ancient times.
These hills protect the region from strong Atlantic winds and help create a continental climate with hot summers and cold winters that facilitate the region's growing conditions.
This region is famous for producing wines like Port, Portugal's most iconic vinho export, Douro Branco, a light and crisp white, and Tinto Douro, a full-bodied Portuguese red wine.
Winery to Visit
The origins of the Barão de Vilar winery stretch back to 1715, and its passion for Portuguese history, culture, and wine is evident in every bottle it produces. Whether you're looking for a classic Port or an elegant red blend, this winery offers the perfect taste of Douro.
Tejo
Not far from the country's capital Lisbon, the Tejo region lies in the heart of Portugal.
Populated with historical remnants of ancient civilizations and beautiful hilltop villages, the rich culture of this growing region is undeniable.
Blessed with unique terrain influenced by proximity to the roaring Tejo River, the plains and riverbanks of this area create a unique mix of wines.
In regions further from the river, drier climates, warmer temperatures, and sandy soils produce complex grape varieties despite harsh growing conditions.
In regions near the river, a maritime climate benefits alluvial soils in growing grapes that produce fruity, fresh, and acidic wines.
Two of the most sought-after Tejo wines are Vinho Tinto blends, and Vinho Branco blends.
Winery to Visit
The Falua Sociedade de Vinhos winery is a perfect example of the Tejo region's wine, culture, and history. Mixing treasured aging barrels with modern winemaking techniques, this winery harmonizes old and new to create delicious wines in the 21st century.
Vinho Verde
Most famous for its crisp, refreshing wines, Vinho Verde is among the most beloved of Portugal's wine regions.
This area of modern-day Portugal has a rich, cultural history stretching back to Roman times, and it's easy to see why with the region's rich soils, temperate climate and diverse grape varieties.
As many of the vineyards in Vinho Verde lie near the Atlantic Ocean, the region benefits from plentiful rainfall, creating higher yields and lush greenery not found in many other Portuguese regions.
This region's name means "green wine," but the title references the age of the high-quality wines it produces, not its color.
Over 80% of this region's wine is white, such as Brancho Vinho Verde, and most sell within 3-6 months of production -- hence their "green" name.
Wine Insiders Tip: Try Rosado (Rosé) from the Vinho Verde region for an excellent, refreshing wine with an emphasis on red grapes over white.
Winery to Visit
Quinta da Lixa honors the Vinho Verde name and emphasizes the country's rich traditions and family values at a small town, family-run winery full of culture and excellent vinho. Make sure to stop by their famous tasting tour for a first-class Portuguese wine experience.
Portuguese Wines
Last but not least, let's examine some of the most delicious and celebrated wines of Portugal:
Rosado (Rosé) Vinho Verde
If you're searching for a crisp, refreshing bottle of Portuguese wine, look no further than Rosado (Rosé) Vinho Verde.
This wine is a lovely (albeit pink) representation of the Vinho Verde region with its beautiful color, light body, and a delightful medley of fruity flavors (strawberry, cherry, melon).
Take time to enjoy the gentle effervescence, bright acidity, and chilled goodness of this Rosé, as they're sure to complement a warm evening spent with friends.
Port
Port is a fortified dessert wine famous worldwide for its Portuguese roots.
This blend comes in a wide range of varieties (Tawny, Ruby, LBV, etc.) with a full body and sweet notes of raspberry, chocolate, blueberry, and caramel to satisfy any lover of sweet Old World wines.
Savor your Port's aromas of leather, dried fruit, and nuts, as these heighten the blend's flavors for an experience that puts you in touch with centuries of Portuguese wine tradition.
Learn more about dessert wines like Port here!
Vinho Branco Tejo
Vinho Branco Tejo is a Portuguese white wine that perfectly represents its home region's beauty, culture, and passion for wine.
Benefitting from the region's rich riverside soil, this wine offers bright acidity, a medium body, and a lovely array of fruit flavors -- with a particular emphasis on green apples.
This refreshing white blend is an absolute crowd-pleaser that marries perfectly with classic Portuguese cuisine or even your favorite salad.
Wine Insiders: A Taste of Portugal
Now that you know what makes Portuguese wine unique, it's time to explore Wine Insiders' collection of delicious Portuguese vinhos.
Whether you're looking for a taste of the Douro, Tejo, Vinho Verde, or any of Portugal's other exquisite wine regions, we have the varietals and blends you need to fall in love with this ancient wine country.
Plus, if you're looking for a diverse and expansive Old World experience, we offer a wide variety of fantastic wine sets mixing classic Portuguese wines with Italian, French, and Spanish favorites for the ultimate tasting selection.
For more information about wine regions, varietals, and more - check out our full library of Wine 101 Guide!