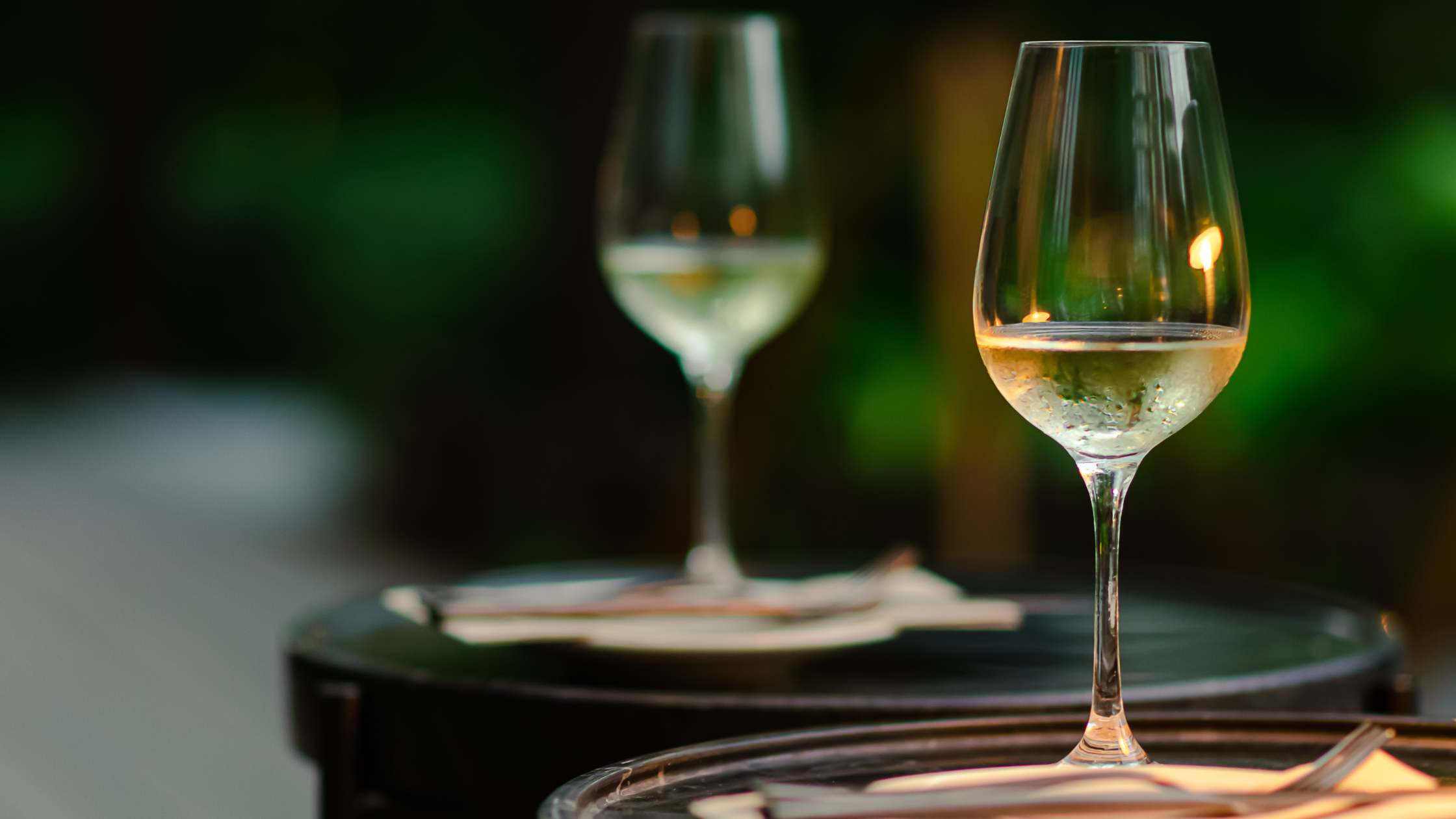 Pinot Grigio vs. Chardonnay
If you love dry white wine, you've likely sipped Pinot Grigio and Chardonnay. 
Those buttery and creamy textures that are so distinct to Chardonnay are simply unbeatable. Pinot Grigio, in contrast, is citrusy and full of pleasantly zingy acidity. 
But there are cases when it can be tough to tell these two dry wines apart. 
This article will break down the exact differences between Pinot Grigio and Chardonnay and how those distinctions can vary. 
Differences Between Chardonnay and Pinot Grigio
If you were to sip Chardonnay and Pinot Grigio back to back, you'd notice that Chardonnay is a much heavier wine on the palate and tastes like buttered toast. Pinot Grigio is much leaner, with more pronounced acidity and green fruit notes. 
The grapes will also look different as Pinot Grigio grapes are purple, whereas the Chardonnay grape is green-skinned. 
However, in the glass, both wines have a golden hue. This is because the skins and stems that would usually give the wines a darker pigment are left behind. 
Now that we've addressed some of the basic flavors and aesthetics of these dry white wines, let's look at why these varietals taste so different.
Chardonnay vs. Pinot Grigio Taste
The Chardonnay grape is heavily impacted by the soil and climate in which it's grown. When grown in cool climates, the wine will taste closer to Pinot Grigio as it takes on a lighter, crisper taste, leaner body, and pear and apple notes. It will taste more tart and acidic overall. You can find crisp cool climate Chardonnay in New Zealand, Australia, and Chile. 
When grown in warmer climates, Chardonnay will emit tropical fruit notes and more complexity. You can find the top warm climate Chardonnays in South Africa and the United States, specifically California. 
Despite the fruity flavors, Pinot Grigio has a much drier taste than classic Chardonnay, with fewer residual sugars and higher acidity levels. 
The way Chardonnay is produced will also affect how similar it is to Pinot Grigio, so let's look into how these wines are made. 
Oaked Chardonnay vs. Pinot Grigio
You've heard Chardonnay called "buttery," but what exactly does this mean? More than likely, someone talking about buttery Chardonnay has sipped one that has been 'oaked.' This means the Chardonnay has been aged in oak barrels, lending to a heavy texture infused with spices and caramel flavors. 
Oak barrels kickstart a process known as "malolactic fermentation," which is an organic breakdown that turns the natural fruit flavors into a more buttery taste and consistency. 
With very few prominent fruit flavors and heavier complexity, oaked Chardonnay is the exact opposite of Pinot Gris' crisp nectarine taste. 
But what is it about Chardonnay that makes it taste lighter and leaner? 
Unoaked Chardonnay vs. Pinot Grigio
It's hard to imagine oaked Chardonnay tasting like Pinot Grigio. If you're sipping a Chardonnay that's as light as Pinot, it's definitely unoaked. "Unoaked" means that the Chardonnay has been aged in steel or plastic barrels, preserving those lighter stone fruit and green apple flavors. 
Unoaked Chardonnay will bear more lemon zest and a light body, and a drier, more acidic taste. Both wine varieties taste lean, honey-like, and burst with refreshing citrus.
But there's one more thing to consider regarding the taste between these two grape varieties, and that's alcohol content. 
Chardonnay vs. Pinot Grigio Alcohol Content 
Regarding alcohol percentages, the fuller-bodied Chardonnay is the stronger of the two. Pinot Grigio typically ranges from 11.5-13.5% alcohol per volume, whereas Chardonnay can contain alcohol levels up to 15%, depending on the type. 
If you're looking for a bit more kick, Chardonnay is your go-to. But if you're more partial to the crisp pizzazz of acidity that's light and refreshing on the palate, choose Pinot Grigio. 
There is another exciting commonality between Pinot Gris and Chardonnay, and it concerns the origins of both wine varietals.
White Burgundy
Both Pinot Grigio and Chardonnay got their start in the valleys of Burgundy, France. Burgundy is also home to the luxuriously smooth White Burgundy, which is among the highest wine classifications. This rich wine is dry, acidic, and slightly nutty, with notes and aromas of wild mushrooms. It is made exclusively from Chardonnay grapes. However, there are some versions in which Pinot Grigio is used. 
This goes to show that both of these lovely white wines are nothing short of exquisite. 
Now that we've compared the characteristics of both Pinot Grigio and Chardonnay let's take a look at their food pairings.
Food Pairings
Unoaked Chardonnay and Pinot Grigio are both excellent pairings for light, citrus-forward dishes, particularly those containing white fish and seafood. The high acidity and crisp, lemony flavors of the two is sure to liven up your ceviche, but there are also a few dishes each wine will complement better than the other.
Pinot Grigio 
With its refreshingly acidic bite, Pinot Grigio is perfect for fatty fish cuisines, mild and dense cheeses like mozzarella and feta, antipasti, and fried foods like fish and chips. Clams and prawns drenched in a tomato-based sauce over Italian noodles is the summer comfort food you need with Pinot Gris. This wine is an excellent pairing for sushi. 
Pinot Grigio is also an excellent complement to pizza! 
Chardonnay
Because of its buttery flavors, Chardonnay is a delectable complement to caramel apple pie. For savory meals, this white wine tastes best with creamy, herb-based sauces. Pair your Chardonnay with butter-soaked lobster for a five-star dining experience. 
Chardonnay vs. Sauvignon Blanc vs. Pinot Grigio
Before we wrap things up between these two wines, we're throwing one more wine into the mix. Since Sauvignon Blanc is often compared to Pinot Grigio and unoaked Chardonnay, it would be remiss not to mention it. 
Chardonnay and Pinot Grigio carry lighter fruit and citrus notes like lemon. While Sauvignon Blanc might look similar with its white and yellow gold colors, its taste is much more savory and acidic. 
Sauvignon Blanc has an almost grassy taste on the palate with a distinct bell pepper note. Chardonnay and Pinot Grigio are much smoother, with some unoaked Chardonnay and Pinot carrying a mineral aftertaste. 
Oaked Chardonnay and Sauvignon Blanc might have more herb-like flavors, but Sauvignon Blanc is still considered drier and more savory than the two aforementioned varietals. 
Pinot Grigio and Chardonnay might be considered close cousins depending on how they're made, but Sauvignon Blanc is in a family of its own. 
Which is Better?
We never shy away from this question as both Pinot Grigio and Chardonnay are equally spectacular wines. It all depends if you're in the mood for something light and crisp or heavier and creamier. 
For creamy dishes, grab the Chardonnay; for light and simple meals like fish or summer salad, pour your Pinot Grigio.
Whether you're sipping Chardonnay, Pinot Grigio, or Sauvignon Blanc, you can never go wrong. 
Grab more exquisite wines at our shop here!
For more wine information, see our blog!