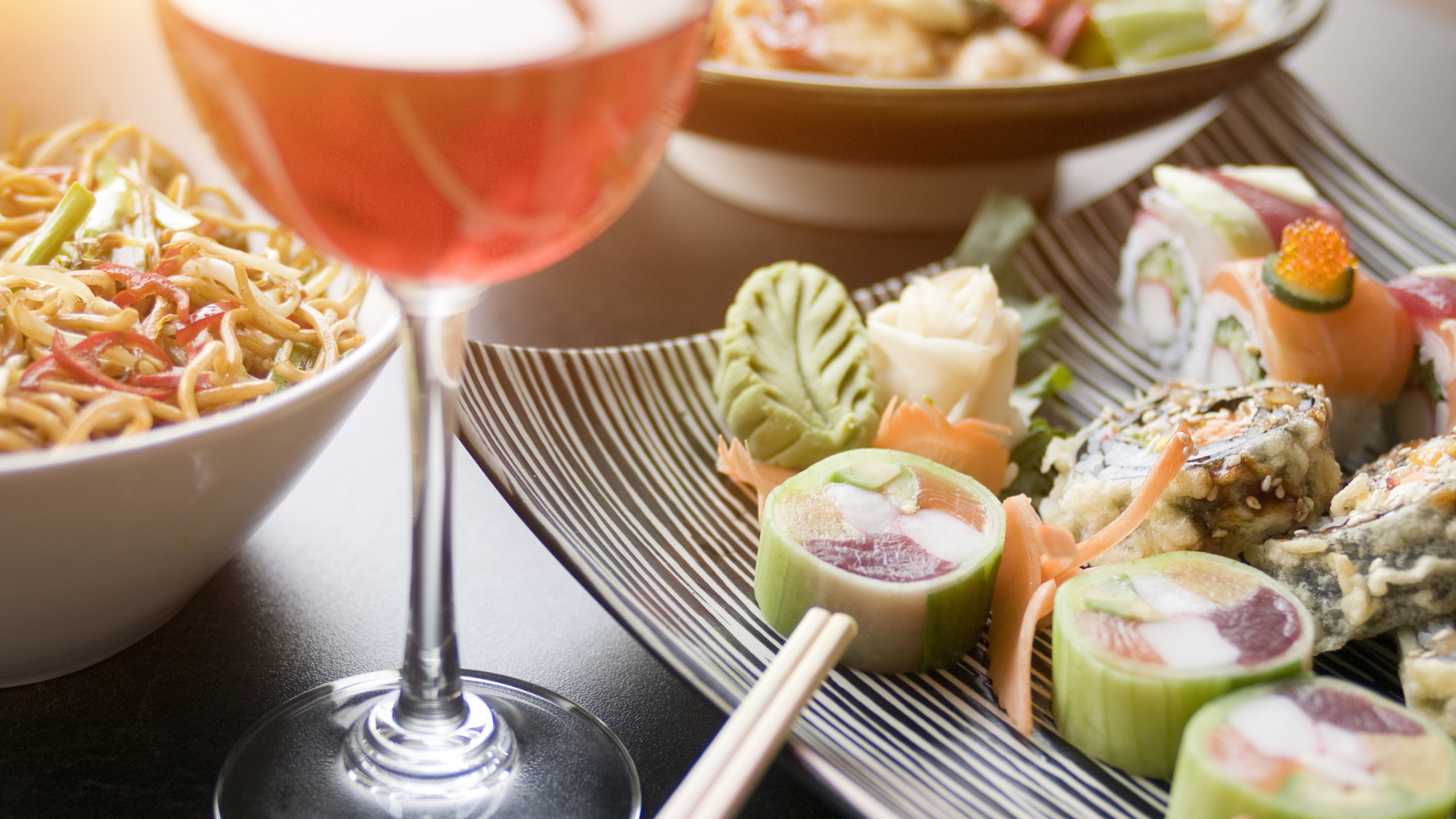 A Guide to Wine Pairing With Sushi
Red wines with red meats, sparkling wine with light salads and appetizers, and sweet wines like Port, Riesling, and Moscato with dessert. 
These general guidelines for classic wine pairings seem simple and straightforward.
But when it comes to pairing wine with specialty courses like sushi, things get a little more complicated. 
Keep reading for the ultimate wine and sushi pairing guide.
What Wine Goes With Sushi?
Like most fish dishes, the preferred wine for sushi should have bright acidity and citrus notes to cut through the buttery, fatty meat and bring out its authentic flavors. 
While light red wines with high acidity could also work, be careful of the tannins, as these will likely overpower the fish. 
That's just the tip of the sushi iceberg. 
Now, let's walk (or roll) through the different wines that will fit perfectly with any sushi dish, from sashimi to a California roll. 
Rice Wine (Sake)
Served hot or cold, rice wine or "sake" is a classic sushi pairing. Its nutty flavors and smooth textures perfectly harmonize any sushi dish. 
As a cultural staple of Japanese cuisine, you've got to try this soothing drink at least once!
White Wines
It's proven that a well-balanced sushi dining experience is best complemented with wines with high acids and low tannins. This makes white wine ideal, as wines with higher tannins (most reds) will overpower light, buttery fish. But not all whites are created equal, and some will pair better with sushi than others. 
Here are our best white wines for sushi:
Riesling
The high acidity and balanced flavors make Riesling one of our perfect pairs for sushi. With notes of apricot, stone fruit, and apple, this classic white wine will bring out the flavors of fatty raw fish. 
Dry Riesling pairs well with fresh salmon and shrimp nigiri. If you love spice with your sushi, pair an off-dry, slightly Sweet Riesling with a spicy tuna roll or your favorite roll with spicy mayo. 
Grüner Veltliner
If your sushi has some green in it, Grüner Veltliner will be the best wine for your sushi. With flavor notes of lemon, lime, white pepper, and green pea, this wine will cut through any raw fish and pair well with cucumber and avocado. It also tastes lovely with eel. 
This white wine is a wonderful pair for dragon rolls and avocado rolls. 
Sauvignon Blanc
Light-bodied and bright with citrus and acidity, Sauvignon Blanc is a lovely, gentle pairing for fresh sushi rolls with white fish, vegetarian rolls, and shrimp tempura. The citrus brings out the flavors of the fish while the acidity cuts through fattier raw fish and avocado. 
If you're ever at a loss with which white to pair with your sushi, go with Sauvignon Blanc!
Pinot Grigio
Pinot Grigio has that wonderfully distinct nectar taste with flavors of lemon, lime, apple, and stone fruits like peach and pear. The citrus flavors will balance any sushi dish, so pair this crisp white with sashimi, shrimp, and avocado. California rolls taste great with this one. 
Now that we've sha-shimmied through all the white wine pairings for sushi let's see which sparkling wines complement this fish dish the best. 
Sparkling Wines
Since sparkling wines are incredibly delicate, they're a perfect easy pairing for sushi dishes and raw fish. 
Because they're so light, minerally, and a little toasty, sparkling wines like Champagne and Prosecco are an excellent choice. 
They're also the perfect palette cleanser and will easily wash down flavors. 
Just make sure your sparkling wine is drier, as this will complement the sushi best. 
Rosé Wines
Rosé wines like Provence Rosé are famous for being the perfect complement to seafood. With a mineral finish and notes of fresh flowers and red fruits, this classic summer sipper is a perfect match for the California roll. 
Best Red Wine With Sushi
White wines and Rosé may be the most popular pairing for sushi, but there is an exception to the rule. 
Below is our number one red wine pairing and the type of sushi you should try with this one. 
Pinot Noir
Light-bodied and even lighter on the tannins, Pinot Noir is the best option if you love sushi but not so much white wine. 
For this wine, try it with fattier fish like tuna and salmon. 
A specific sushi roll that goes well with Pinot Noir is the Philadelphia roll. 
With smoked salmon and loads of cream cheese, tannins are no match and will even bring balance to this roll. 
Ready for "All You Can Eat!"
Now that you're up to speed with the best sushi wine pairings, you can approach your next sushi night with confidence. 
To recap, you can never go wrong with dry and off-dry white wines that are light to medium-bodied. A wine with citrus and floral aromas and a mineral taste perfectly complements buttery fish. 
Dry Rosé, fresh bubbly wines, and a few select light-bodied reds with low tannins will pair nicely with sushi if you want to mix things up. 
Visit our Wine Selection to find your next perfect food pairing. 
For more wine pairings, recipes, and other fun facts about wine, check out the Insiders Blog.