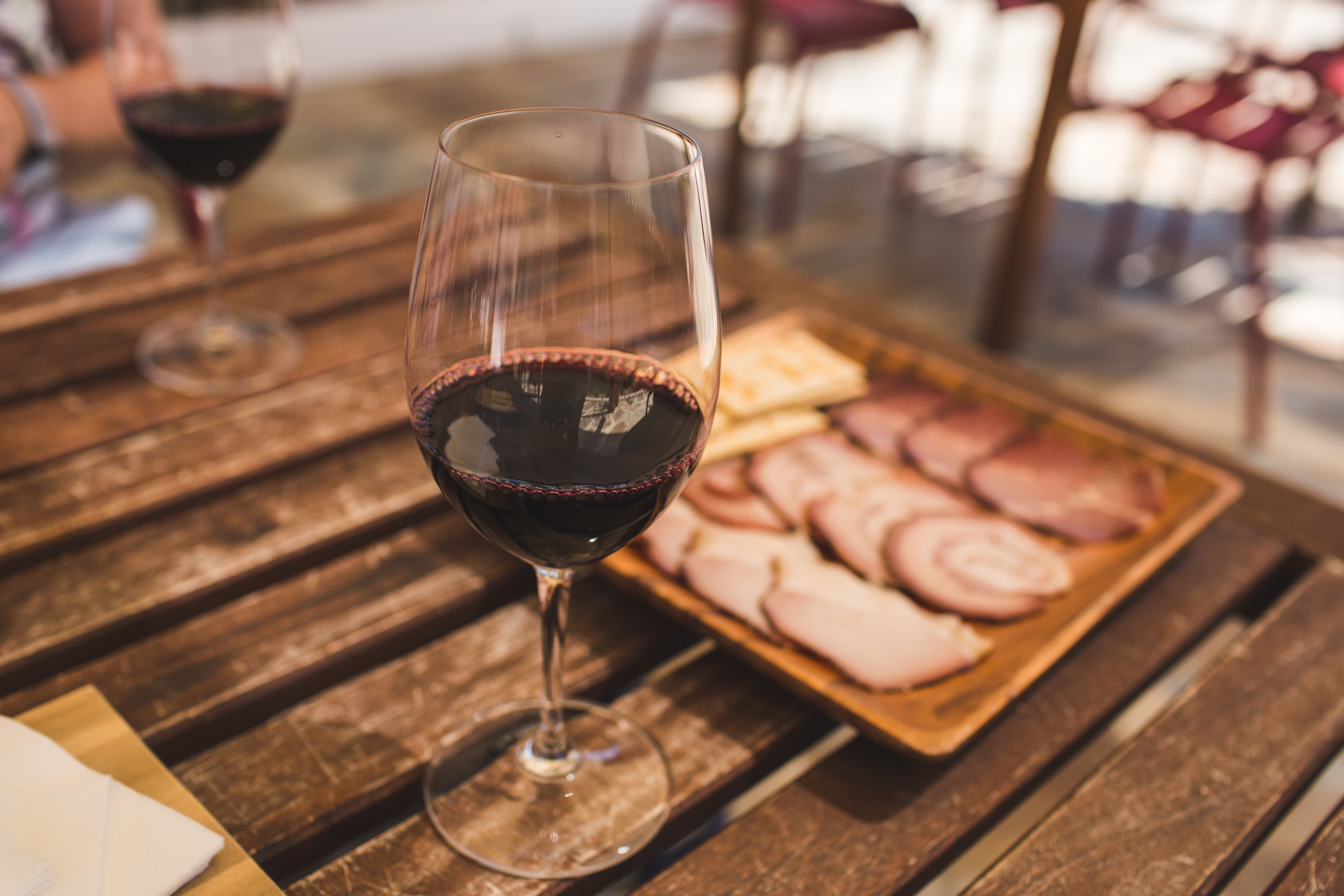 Barbera d'Asti
Bar-beh-rah dah-stee
Origin: Asti and Allesandria
Grape: Barbera grapes (medium sized, spherical grapes with black coloring)
Flavors: Cherries, strawberries, and raspberries (can also give off a blackberry aroma)
Notable Regions: Asti and Allesandria
Sweetness: Dry
Body: Light-bodied
Tannins: Low
Acidity: High
ABV: 11.5% - 14.5%
Barbera d'Asti Wine Regions
Most of the Barbera d'Asti wine you will come across will be from Italy, however, as the grape's popularity has grown it has found its way into other preeminent growing locations. The grape itself is hardy and adaptable, making it ideal for cultivation in a number of climates and regions.
Worldwide Acres: Approx. 62,000 (25,090 hectares)†
Italy: 50,720 acres
United States: 11,600 acres
Australia: 250 acres 

The History of Barbera d'Asti
Barbera d'Asti wine dates back as far as the 13th century, with indications that it originated in northern Italy's Piedmont region in the hills of Monferrato. The earliest written record of the wine can be found in the 17th century, however, it really began to gain popularity in the 19th and 20th centuries, to the point where, today, Barbera is considered to be Piedmont's foremost and principal red grape variety. In fact, for much of the 20th century, the Barbera grape was Italy's third most planted and produced variety.
Barbera d'Asti has earned a reputation over the years of being a substantial value wine, offering wine enthusiasts and casual drinkers alike the opportunity to buy a delicious and sophisticated taste for an extremely reasonable price.
At one point, the wine was almost impossible to find outside of Italy. This was largely on account of it being relegated to a lower rung in the wine world, with critics deriding it as a simple bulk wine that was unable to compare to Italy's popular Nebbiolo wines of the same region. However, this slight ended up being what made the wine popular. The reasonable price is largely derived from the fact that Barbera wines, since they are considered to be of lesser quality than that of Nebbiolo wines, are not given "prime" grape-cultivating real-estate in the Asti and Allesandria regions. The result is a great and, most significantly, affordable wine.
Barbera d'Asti Taste and Flavor
Barbera d'Asti is a unique wine because the Barbera grape gives it both an intense, near-black appearance and a rich and light-bodied taste. This taste is highlighted by notes of strawberry, raspberry, and sour cherries, which make it a surprising and delightful wine.
These contrasting characteristics are interesting because the wine takes on the light- to medium-bodied nature of wines like Pinot Noir, long noted for its fruit-forward strawberry, raspberry, cherry, and blackberry notes, while at the same time delivering a dark, rich color and taste emblematic of a Syrah. The wine also benefits from a low tannin count and high acidity, giving it a zesty and tart taste for those who like red wines that embody a typical tart fruit flavor.
Barbera d'Asti Food Pairings
Barbera d'Asti is an idea wine for pairing with foods on account of its acidity, which makes it versatile and adaptable to a number of meals and dishes. Another aspect of the versatility of Barbera d'Asti wines is that they make great aperitifs, allowing for them to be served before a great meal. Remember, in any food and wine pairing, your goal as the chef should be to lift and accentuate the meal and its flavors, not dominate it.
The Best Barbera d'Asti Food Pairings
As noted above, Babera d'Asti is a highly versatile wine for pairing, however, here are some of favorite recommendations.
The traditional, regional pairing for Barbera d'Asti is tajarin pasta, which is a long, ribbon pasta made of egg dough and finished with light, creamy sauces, a little meat, and, for an added splash of flavor, truffles.
Outside of this traditional pairing, we often steer d'Asti fans towards rich, dark meat, specifically beef, that serve as strong complements for the wine. Additionally, cheeses like blue cheese, specifically Gorgonzola, pair well with wine. Creamy pasta dishes reminiscent of northern Italian cuisine and in line with tajarin are also a great option. Another interesting pairing that goes well with d'Asti are cold cuts.
Mushrooms, peppers, root vegetables, and assorted greens are also great for pairing with d'Asti. This makes the wine optimal for a zesty, acidic salad, or a rich meat dish that utilizes mushrooms and assorted vegetables.
Food Pairings to avoid with Barbera d'Astia
There are some foods that do not pair well with Barbera d'Asti wine, however, this is not to say that they need to be avoided at all costs. D'Asti is produced in northern Italy, and thus its flavors tend to pair well with the local cuisine. If you are familiar with Italian cuisine, you'll recognize tomatoes are not as fundamental a component of northern Italian cuisine, specifically pasta sauces, as they are in southern Italy. Tomatoes tend to work against Barbera d'Asti's crisp, acidic taste and finish on account of their own acidity. While the pairing is not impossible, the two flavors don't exactly complement each other.
While a lot of wines pair well with seafood, d'Asti is not one of them. While it is not impossible to find quality seafood pairings for the wine, we recommend steering clear of shellfish. If you are really looking to pair the wine with seafood, we recommend white fish, which tends to be a little leaner and has flavors that don't mix with those of d'Asti to create a metallic, unsavory finish that is typical of most shellfish and d'Asti pairings.
Barbera d'Asti in a Nutshell
Overall, Barbera d'Asti is a great option for those looking for a versatile, unique, and great tasting wine. Though it doesn't have the prestige of many of Italy's more popular and renowned varietals, its versatility in food pairing makes it a wonderful option. Next time you buy a bottle of wine don't forget to consider Barbera d'Asti and give it a try. We're sure you won't regret it!