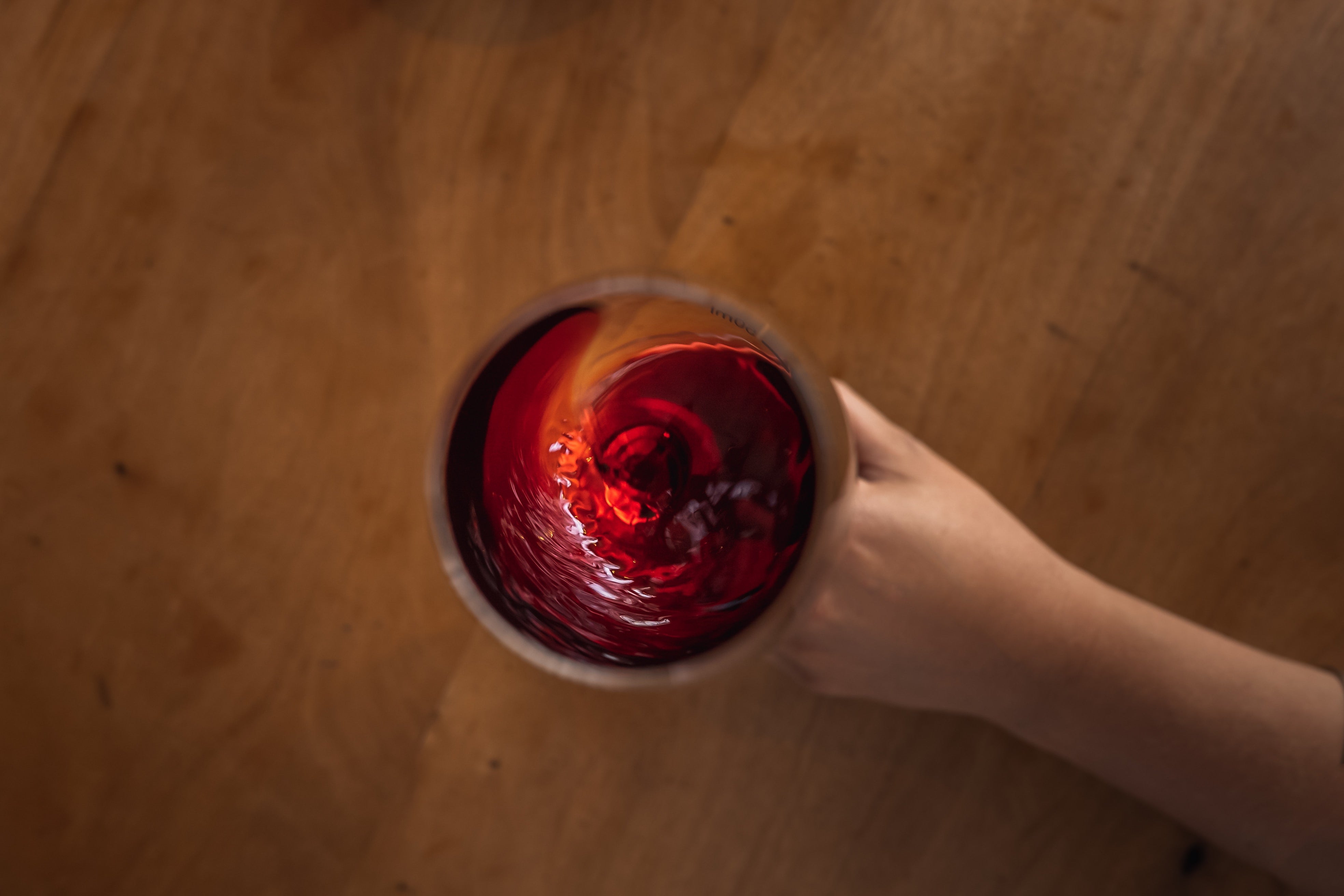 Grenache
greh-nash
Parents & Origin: Aragorn, Northern Spain Grape: Tight clusters with thick ruby-red or dark blue skin Flavors: Strawberry, black cherry, raspberry, citrus, cinnamon Notable Regions: Rhone Valley, Priorat, Sicily, California, South Australia Sweetness: Medium Body: Medium-Full Tannins: Medium Acidity: Medium ABV: 13.5-16%
Grenache grapes are some of the oldest grapes still widely planted today. In 2015, there were 163,000 acres of Grenache planted worldwide. You may already be familiar with Grenache wines, such as the very popular Châteauneuf-du-Pape or Priorat.
The History of Grenache
Evidence shows that Grenache, or Garnacha in Spain, originated in the country's northern region in Aragon. Plantings of grenache grapes have since spread from Spain to other regions like Catalonia, Sardinia, and southern France.
Grenache vines are strong wood so they can survive in windy climates. This adaptation is especially useful in the northern regions of Aragon and Rhone. At the same time, mechanical harvesting of these grapes becomes more difficult. Grenache grapes also have a significantly longer growing season than Cabernet Sauvignon.
In the 18th century, Grenache was one of the first grape varieties introduced to Australia. Gradually, Grenache became one of Australia's most widely-planted red wine grape varieties until the Shiraz variety surpassed it in the 1960s. By the 19th century, the grenache wine variety spread and solidified its reputation throughout the Languedoc and into the Southern Rhone region of France.
At this point, California wineries also began growing Grenache. California wineries were impressed by the varietal's ability to produce very high yields and be resilient to dry, high-temperature climates. Grenache grapes are an upright variety with high fertility and high yields. Its large clusters allow it to resist droughts and adapt to different soil types.
In the San Joaquin valley, Grenache wine became a popular blending wine, usually a component in more pale, sweeter wines. Most commonly, Grenache wines were blended with Burgundy wines to provide additional body and alcohol content.
France and Spain currently account for 87% of the world's Grenache production.
Grenache Food Pairings
Grenache is one of the more versatile pairing wines out there. Grenache's full-bodied qualities make it great with many foods as a standalone wine or blended with other varieties.
The Best Grenache Food Pairings
Grenache pairs well with slow-cooked meats like pork or lamb. Fatty meats like lamb shoulder or shank suit bold Grenache flavors well. When making braises or stews, using a dark, winey sauce can help bring out the wine's fruity Grenache flavors.
Grenache also goes great with well-seasoned and spiced foods, like goulash or light curries such as rogan josh. This wine is a natural companion to slightly sweet dishes like those in Moroccan cuisine. At the same time, Grenache wines also complement more smoky flavors and make a great companion to barbecue.
UK dishes such as sausage, mash, shepherd's pie, and steak/kidney pies are also great pairings for Grenache wine. Since Grenache has fewer tannins than more structured red wines, it plays well with regional British cheeses such as Cheddar or Red Leicester. Macaroni and cheese, baked veggies, or bean-based dishes are also great sources of inspiration for a night with Grenache!
Food Pairings to Avoid with Grenache
Raw foods are best left aside when drinking Grenache. This includes raw meats like fish and raw veggies like salads. Dishes that are more citrusy can also clash with Grenache flavors. It is important to note that everyone's wine and food preferences are different, but thankfully Grenache's versatility means you'll usually have a great time pairing it with whatever you'd like!
Grenache Tasting Notes
In a blind test, Grenache wines will carry unmistakable candied fruit and spice flavors. However, right off the bat keep in mind that Grenache as a standalone wine is often undesirable, which is why most Grenache you drink will usually be blended with other wines for taste and balance.
In the production process, winemakers use harsh pressing methods and high heat fermentation in order to compensate for the Grenache grape's naturally low tannins and phenolic compounds. It is also common for Grenache wines to be deep red, since the production process leaves the stems in to get the most color out of the skin as possible.
At its core, Grenache appeals to many people with its intense fruity and herbal notes. Berries that shine through are strawberries, black cherries, and raspberries, with hints of cinnamon and anise, as well. The flavor profile of Grenache as a whole can be likened to the taste of a fruit roll-up. This makes Grenache a great choice for those who are fans of fruit-heavy, red grape wines!
Grenache wines also have a medium level of acidity and lack harsh tannins. The high sugar levels of this wine make it suited for fortified wine production, such as the vin doux wines of the Roussillon region or the "port-style" Australian wines. When producing fortified wines, a three-day fermentation process must be done before the grape spirit is added to stop the fermentation. This brings the alcohol content of finished Grenache to 13.5 - 16%.
Some grenache wines are made by leaving them outside in carboys (large glass containers) or wooden barrels. These outdoor storage methods help the wine bake in the sunlight when aging until it develops an oxidized character with raisin, nut, and even cheese flavors. Fortified Grenache wines can be stored for many years and are drinkable even thirty years later.
If you imagine a spectrum of wine acidity, Grenache usually falls right in the center. Color-wise, Grenache wines sit in between the lighter shades of Pinot Noir and the dark ruby reds of Syrah. When blending, Grenache is a default choice for many winemakers because it adds body and fruitiness to other wines without added tannins.
Grenache in a Nutshell
Grenache grapes are still one of the most popular varieties grown in the world. Grenache wines are commonly found in blends but are offered as a single varietal in the United States. While its roots are in Spain and France, Australia and the United States have adapted and popularized it to their climates and regional tastes. This wine is best enjoyed as a classic fall or winter wine paired with roasted meats and veggies! 
Ready to learn more? Don't forget to check out our other wine guides:
Red Wine Guide
Sparkling Wine Guide
White Wine Guide
Rosé Wine Guide
Dessert Wine Guide