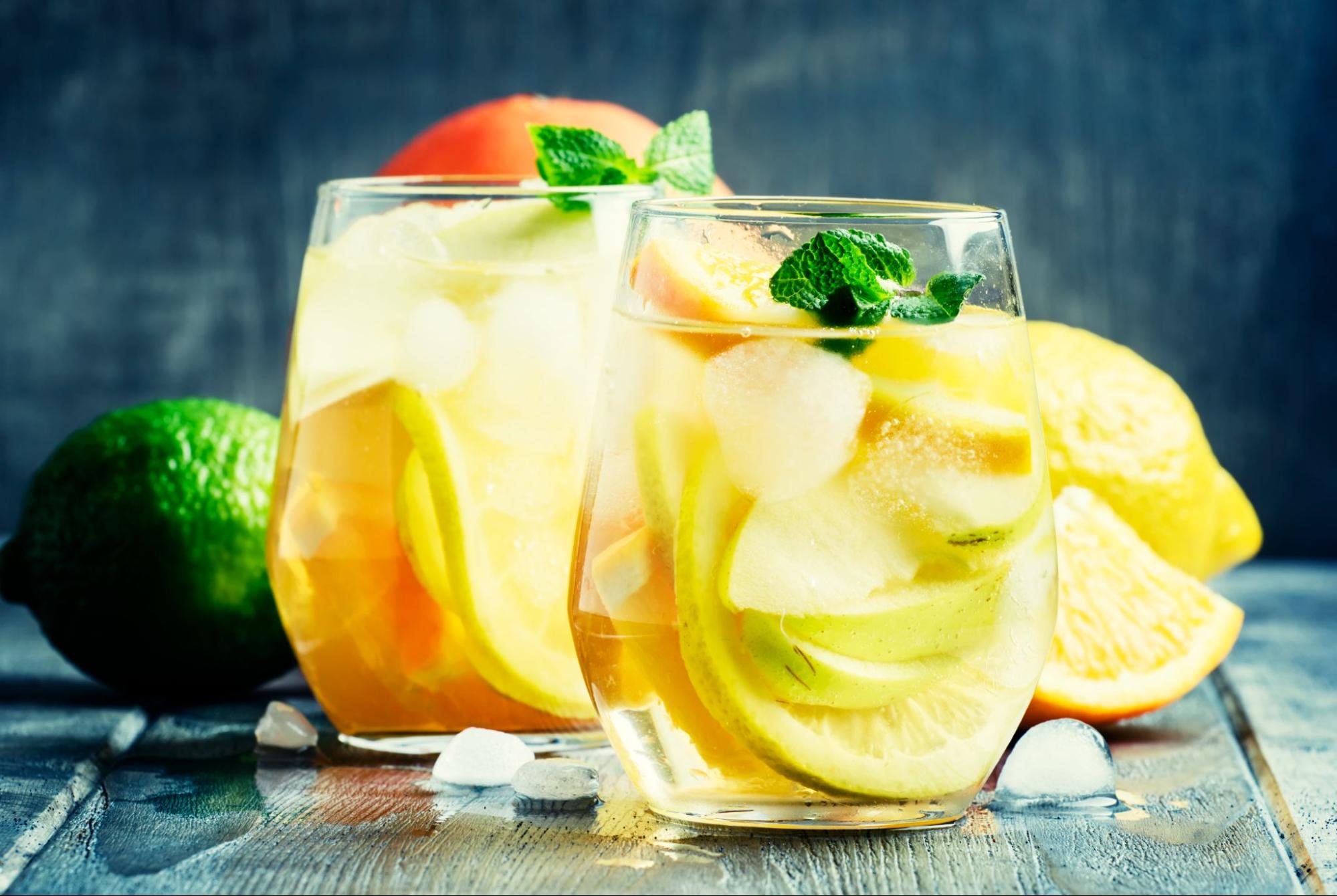 How to Make Sangria Year-Round
Steaming morning espresso. Perfect sunny beaches. A relaxing afternoon siesta.
Spain might just be paradise on Earth. Even considering all they've given us, still, nothing tastes quite as sweet as a tall pitcher of chilled, chunky sangria. 
This fruity wine cocktail isn't just the perfect summer drink, it's delicious in the winter, spring, and fall too. Suit up your sangria with seasonal fruit and spices fit for every time of year.
Read on to learn how to make sangria and why a cool pitcher deserves a spot in your fridge year-round. 
Sangria: A Brief History
Our love affair with sangria isn't a new one.
The earliest versions of this fruity treat originated over 2000 years ago as the Romans spread their empire over the Iberian Peninsula. Drinking water was considered dangerous due to the bacteria hidden within, so a glass of H2O was often mixed with herbs, spices, and the supposedly germ-killing properties of wine.
After thousands of years of evolution in Western Europe, sangria was popularized in the U.S. after its inclusion in the 1964 World's Fair in New York. Our drink menus have never been the same since.
Even though we most commonly associate sangria with Spain, locals today are much more likely to drink a different fruity drink called Tinto de Verano — a mixture of red wine and sweet lemon soda.
All that said, sangria is one of the most delicious fruity concoctions you can make in the world of wine, with ingredients so simple you might be ready to make one right now. 
For a basic sangria, this is all you'll need:
Chopped fruit
Orange juice
A natural sweetener like brown or cane sugar
Liquor like brandy or rum
Fruit-forward, dry Spanish red wine such as a Garnacha or Tempranillo
Chunks of ice
It's simple, elegant, and so mouthwatering you'll be begging for another pitcher in no time. Of course, there are dozens of different ways to style your sangria, with seasonal fruit and spices suited for each season.
Prepare for a quick trip to the grocery store because we've compiled four different scrumptious sangria recipes for every season and every mood.
Red Sangria Recipe
No summer evening can be considered complete without a glass of red sangria to see out the day. Elevate your floral red wine to the next level by pairing it with a handful of fresh fruit and cava in this Sunny Sangria Recipe.
Ingredients:
2 bottles of fruity red wine like a Beaujolais or George Phillips Red Blend
1 cup of orange liqueur such as a Grand Marnier
1 cup of brandied pitted cherries
1 cup of sliced fresh peaches or nectarines
1 cup of fresh raspberries
1/4 cup elderflower liqueur like a St. Germain
Lemon zest
1/2 bottle of cava
Sprigs of fresh mint
How-To:
Combine all but the cava in a large-mouth glass bowl or pitcher
Stir gently with a wooden spoon or spatula and place in the refrigerator for up to 2 hours
Just before serving, pour in the cava and stir gently.
Pop large ice cubes into each glass
Ladle the sangria into each glass and garnish with fresh mint
Winter Spiced Sangria
Winter isn't simply a time for mulled wine and hot toddies. Sangria earns its place at the table with this White Sangria Recipe rippling with apple cinnamon spice and tasteful citrus to round out a scrumptious sipping experience on a cold January night.
Ingredients:
1 bottle of Nebla Old Vine Garnacha or Garnacha Blanco
1 bottle of spiced apple cider
2 ripe red apples
3 cinnamon sticks
1 navel orange
1 lemon
1 lime
Club soda or lemon-lime soda
Ice
 How-To:
Slice your orange, lemon, and lime.
Place the fruit in your pitcher
Pour in your cider and give the mixture a stir
Place a lid on your pitcher and let cool in the fridge for 2-3 hours
Remove sangria 1-2 hours before serving
Once you're ready to sip, add a splash of club soda or lemon-lime soda, depending on your sweet tooth.
Apple-Pumpkin Sangria
Another addition to the fall catalog is this scrumptious Apple-Pumpkin Sangria. Perfect for sipping alongside a slice of steaming pumpkin pie, this autumn cocktail gives pumpkin spice latté a run for its money as the definitive fall drink.
Ingredients:
1 bottle of white wine
1 bottle of chilled sparkling cider 
1/2 cup of pumpkin pie vodka
1 apple, seeded and chopped
1 pear, seeded and chopped
1/4 cup of white sugar
1/2 tsp pumpkin pie spice
Cinnamon sticks/star anise
 How-To:
Pour the wine and vodka together in a large pitcher
Stir in the chopped fruit
Cover, then chill for several hours, if not a whole day
Once you're ready to serve, pour the chilled bottle of sparkling cider slowly into the mixture and gently stir
Mix your sugar and pumpkin pie spice in a shallow dish
Coat your pear/apple slices in the sugar/spice mix and wedge them on the rims of your glasses
Finally, you're ready to pour! Be sure to garnish with a slice of apple, cinnamon stick, or star anise.
Autumn Harvest White Sangria
Elevate 'simple' to satisfying with this autumnal sangria recipe. Pair a third cup of your favorite brandy with a bottle of crisp white like our 2019 Cannery Row Chardonnay. Throw in a handful of juicy fall fruits and you'll find yourself thirsty for seconds for our Autumn Harvest White Sangria. 
Ingredients:
1 bottle of crisp white wine, chilled
1/3 cup of your choice brandy
6-8 fresh fruits like peaches, apricots, apples, or nectarines 
How-To:
Cut up your fresh fruit into juicy chunks
Take half of your fruit and place it in a blender to puree and create a sweet juice
Fill a large pitcher with ice and add white wine, brandy, and fruit puree
Add in the remaining chunky fruit
Let sit in the fridge for 30 minutes to an hour
Serve over ice and get your sip on
Sweeter Than Just Summer
Sangria's simply too tasty to be confined to one season. Delicious fruit and floral red wine deserve to mix together on every occasion and every time of year.
Whether you like your sangria minty and wintry or sweet and summery, make your next pitcher with a bottle from Wine Insiders. We have dozens of fruit-forward red wines to choose from among our ever-growing collection of high-quality bottles and diverse varietals.
While you're shopping for the best wine for sangria, use our discount code WINE101 at checkout to earn 30% off your order!
To learn more about sangria and other irresistible wine cocktails, be sure to browse through our blog or our Wine 101 page for everything there is to know about elevating your vino game.